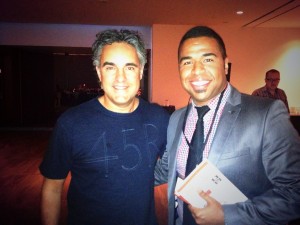 I am going to apologize up front for my long-winded post about this great event but there is so much to say!
First off, huge thanks to Brad Ferguson, EEDC, ATB Financial, Capital Ideas, Alberta Women Entrepreneurs, Edmonton Chamber of Commerce and the list goes on and on!
It is so great to see a business conference like this right here in Edmonton. To have world-class influencers such as Guy Kawasaki, Chris Hadfield and Bruce Croxon is just amazing! Being a marketing dude myself, this conference had a ton of take aways.
Anyhow, let's jump in! For myself being in the marketing, communications and advertising field I am constantly hungering for new ideas, inspirations and innovative tactics to not only better myself professionally but also morally and spiritually. I have always believed that to be great professionally or personally, you must be balanced. The line up of keynote speakers all touched on this in some way shape or form.
I think the City of Edmonton is great and has so much to offer, but we drop the ball sometimes in voicing it to the rest of the world. E-town does just that, screams "Hey, look at us, we got some pretty cool things happening here!" I am so happy to see a conference like this.
There were TWO massive points that stood out to me:
1. Dave Mowatt of ATB Financial talking about new and innovative small business funding options. This hit home for me big time! When I opened my business up back in 2008, it almost seemed like the banks were looking for ways to decline funding. Here I am thinking "Jeeze, I am a young entrepreneur trying to execute on a great idea which ultimately will generate a few bucks and some jobs, am I doing something bad here?" I am happy that more options are out there for small businesses here in Edmonton to get funding and that more dialogue is happening around this issue.
2. Bruce Croxon saying "These large banks have made a ton of cash off the backs of small businesses, we need to find a way to control this, I am not sure how, all I can do is keep talking about it." Such true words spoken and great to hear that from someone who has a huge platform to voice concerns.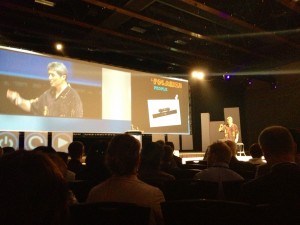 Hearing Guy Kawasaki speak was great, but to be honest, not what I expected at all, it was BETTER! I sincerely think he actually loves hockey and the heritage classic that the Oilers put on at Commonwealth Stadium a few years back. Clearly I had dreams of Guy saying "Don't let the Bozos grind you down". In case you missed some of his tips for a successful sales pitch, here they are:
• Customize your intro
• Break the ice "I see you are a hockey fan…..etc."
• Build value and add insight
• Have your power point be no more then 10 slides (30 point font) that can be presented in 20 minutes.
• Don't let the bozos grind you down!
Bruce Croxon , founder of Lavalife and a dragon on the show CBC Dragon's Den was great and honestly my favorite speaker. His speech about having organizational values from top down was great. It definitely provided insight and emphasized that "keeping it real" and never giving up on your core values is what will keep you headed in the right direction and ultimately the path of success. When he brought up the topic of how many times he gets asked "How do you manage a work/life balance?" and his response of "If you are not thinking about your business 7 days a week…then?" was definitely thought provoking. Being an entrepreneur is definitely not for everybody so there are many factors to consider before taking the plunge! All in all, great speech and good energy.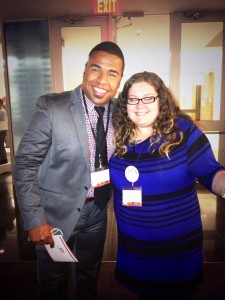 I have been rambling long enough now so I just want to conclude by saying this conference was by far, one of my favorite here in Edmonton, the break out rooms and Panels provided for an excellent opportunity to mingle and chat with some of Edmonton's best in the business community!
HUGE thanks to all who organized and looking forward to the next one!