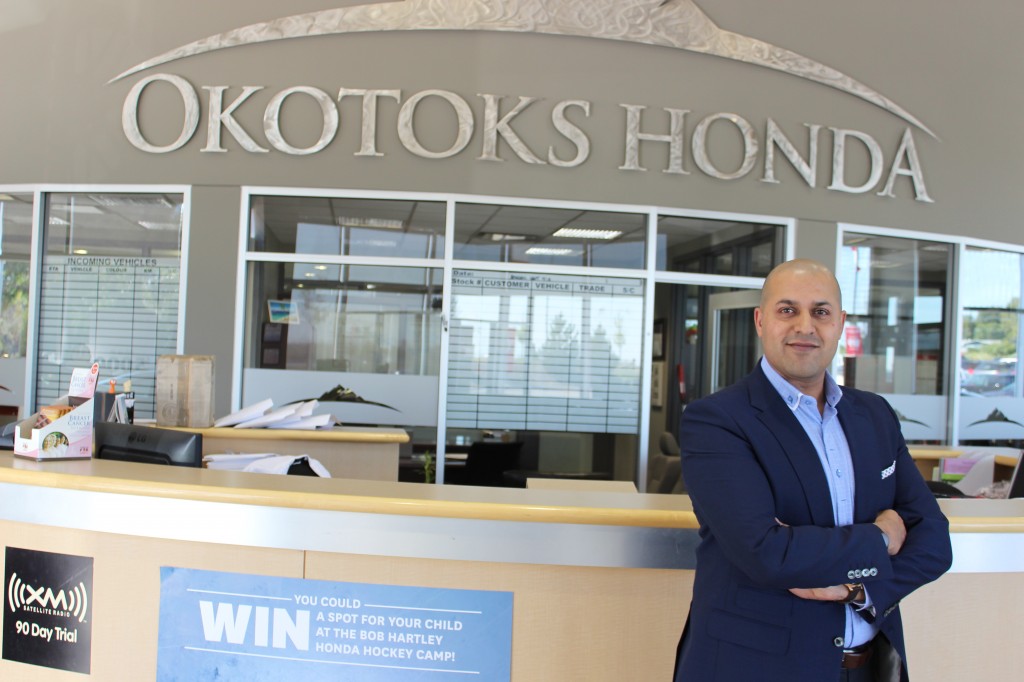 Click to Listen to my Interview with Asif Premji, General Manager, Okotoks Honda located in Okotoks, Alberta
Another awesome interview with a seasoned and innovative Automotive Professional. Asif Premji, General Manager of Okotoks Honda located in Okotoks, Alberta, Canada has over 10 years of experience in the automotive industry. His family has owned the dealership for 15 years.
This interview was truly a pleasure and has tons of useful content both for the customer and other dealer priciples, general managers, sales managers and automotive marketing professionals. I am going to go over our conversation briefly, but as always, all the nuts and bolts are in the interview itself, so be sure to take the 18 minutes and 53 seconds to give it a listen. I guarantee you will learn a few things from one of the best!
Three C's: Connect, Create & Cultivate is the culture inside of the dealership that Asif and his family live by, breathe and demonstrate. In a world where digital has literally changed how we communicate, do business and live, it is so important that we use platforms like Facebook, Twitter, YouTube, LinkedIn and Instagram to communicate. Currently about 10% of Auto Dealers have adopted digital which is shocking! If you flip the script, 90% of car buyers are starting do their home work (Online) 3-6 months prior to stepping foot in the showroom and when they do, likely they have already chosen the vehicle, it is just a matter of who THEY select to help them in the process. This is where relationship, transparency and trust are soooo important, hense the online new age of communicating. My opinion is if dealers do not wake up and realize that taking out an ad on the back of a newspaper is just not good enough then……yikes.
Now I know that adopting Social Media, Online Marketing and Digital inside of the dealership as a culture can be challenging at best but it is so crucial in moving forward to stay in touch with the customer. Some of the techniques that Asif has used are explaining the "why" to his staff and seeking out professionals to come in and teach his staff some of the new age digital techniques. Education is the big thing here.
I asked Asif if he was a customer walking into a dealership what kind of tips he would give them. Here is what he suggested:
-Start the homework online
-Visit automotive websites like Dealer Rater
-Look at automotive dealers website pictures, if they have snow and it is summer then that means they have been sitting on that vehicle for awhile (Better negotiating power for customer.)
-Look for dealers that offer education tips "How to's"
-Check them out on google and look for reviews
I will wrap this post up by saying this was an awesome interview with so many good tips for both the customer and fellow dealer. Below is a summary of what you will find in the interview, so as I said previously, take some time out and listen. If you like this interview or found value then please share with your networks. If you would like to reach out to Asif, you can do so here or on Twitter @asifpremji
Interview Summary:
The 3 C's: Connecting. Creating. Cultivating.
Car Buyers are researching 3-6 months prior to purchasing
Consumer Buying Tips from The Dealer Himself
How to Get Your Dealership Staff To "Buy In" to the Digital Game
We Need to Make The Automotive Industry More Transparent for both The Buyer & Peers
LISTEN TO YOUR CUSTOMERS
Build Realtionships with Customers, Don't Sell
Over and Out.