What People Are Saying
"We had Ryan as our keynote speaker at the Rifco National Auto Finance Dealer Conference in Whistler. His presentation was insightful, engaging, relevant and most importantly fun. He provided our clients with an assortment of tools they can take back to their business. Ryan's energy and excitement was infectious and provided so much value to our conference. Thank you Ryan." – Rifco Financial Group
"I recently had the pleasure of participating in Ryan's workshop during our annual, National education committee meeting. Ryan's high energy and enthusiastic presentation instantly intrigued our group; I would confidently recommend him to anyone seeking an innovative and exciting seminar! Ryan is forward thinking and offers progressive marketing solutions, we are very excited to be working with him throughout 2017!" – Natalie Conway, Association Manager, Ontario RV Dealers Association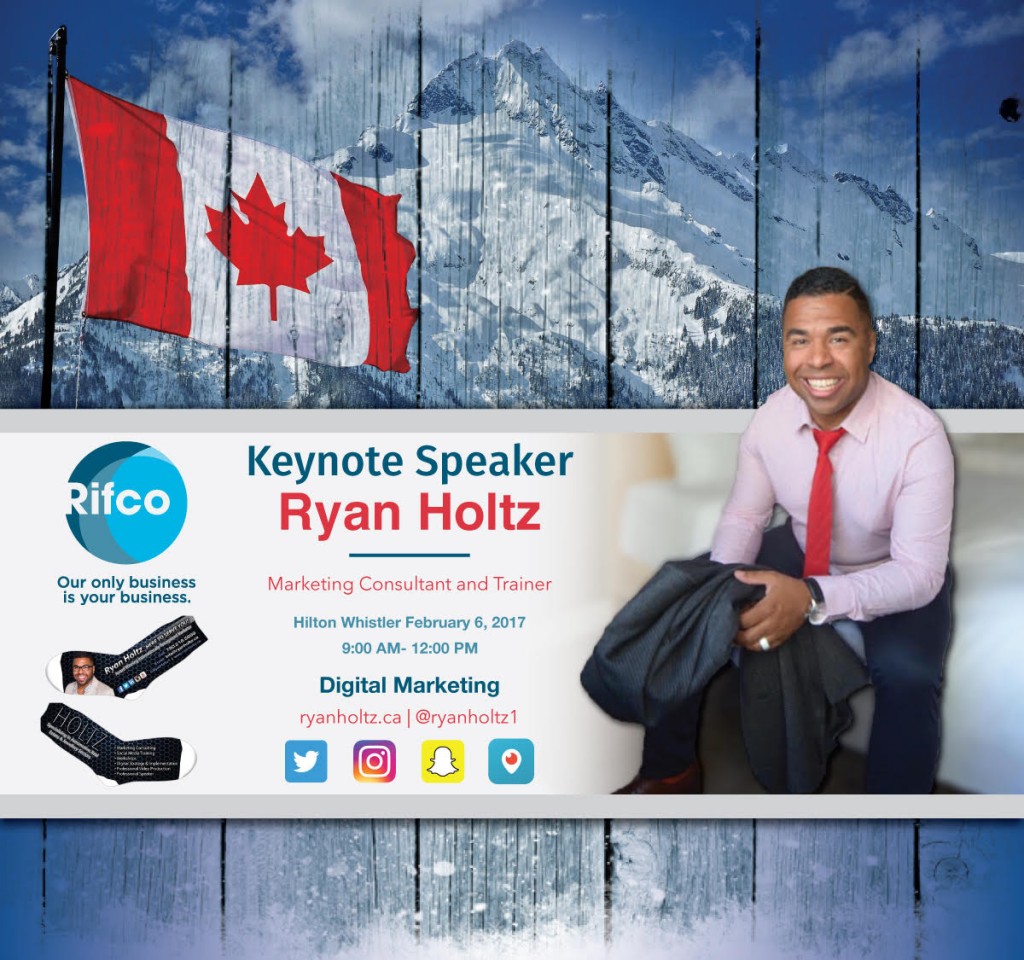 Book Ryan for your next conference or event.
Ryan Holtz is an internationally recognized automotive marketer, social media expert and renowned keynote speaker. After proving himself as a marketing force in the role of Marketing & Internet Director at Zender Ford, Ryan left to form his own company specializing in social media, digital marketing, content marketing and individual branding. Known for his uncut, entertaining and provocative style, Ryan's reach as a public speaker goes far beyond the automotive field as he is now continuously sought out by professionals in a variety of industries.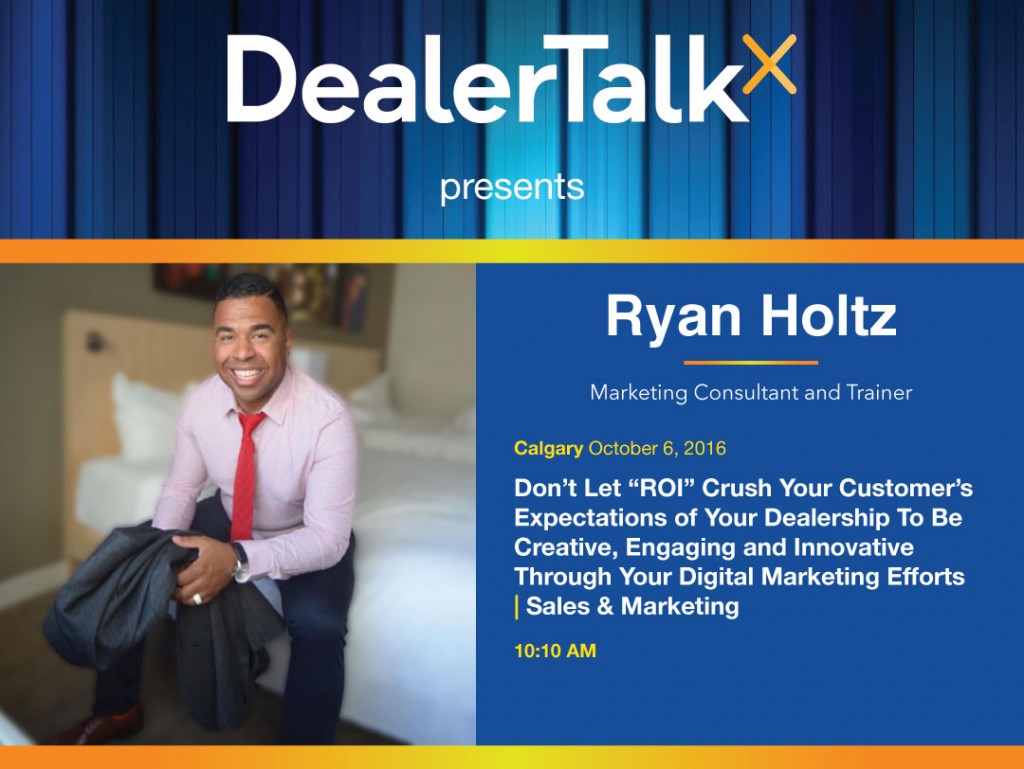 Book Ryan for your next conference or event.
Rather than just speaking "to" an audience, Ryan engages and interacts with them through relatable
story-telling and asks uncensored, thought-provoking questions – educating and evoking emotion within each individual in the room. Ryan has been an outspoken and charismatic keynote speaker at
various events, conferences and committee functions and is in high demand when it comes to anything automotive or marketing related. Recent speaking engagements include Internet Battle Plan in Seattle and the Canadian Jewelry Expos in both Edmonton and Toronto. Additionally, Ryan's reputation as a Social Media/ Marketing aficionado has led to regular guest spots on both CTV and Global Television.
Working With You
Ryan's entertaining and relatable delivery style is suited for both formal speaking engagements in large group settings, as well as smaller, more personal environments. As a talented speaker, trainer and facilitator, Ryan can work with you in the following ways:
• Keynote speaker
• Emcee/ on-location event host
• Panel/ round table contributor
• Media commentator on social media, anything marketing related, current affairs
• Speaking/ training at corporate retreats and events
• Online webinar facilitator and trainer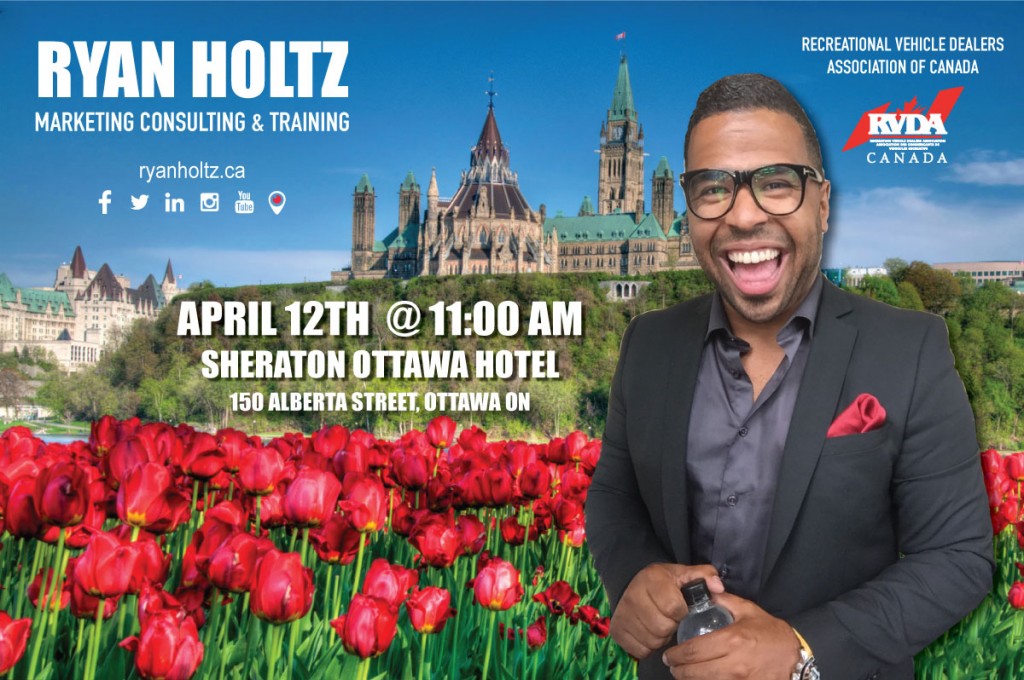 Personal Motivators
Whether he's in front of a large crowd or engaged in a discussion with a smaller group, Ryan's primary goal is to get each and every individual in the room to consider one new idea that they hadn't thought of before – empowering them with a new perspective that can be applied to everyday life. Ryan loves asking the tough questions and doesn't shy away from being controversial – but he promises to stir up emotions and make you think.
Kijiji Dealertalk X in Calgary
Recreational Vehicle Dealers Association of Ontario>
Recreational Vehicle Dealers Association of Saskatchewan>
Canadian Jewellers Association
New Brunswick Auto Dealers Association
Armenian Jewellers Association
Super Sales Automotive Internet Conference | Dallas | Seattle
Internet Sales 20 Group Auto Conference | Los Angeles, California
Canadian Jewellery Expos Conference | Edmonton | Toronto
Edmonton Realtors Association
Western Canadian Auto Dealers Summit | Las Vegas | Banff
Canadian Jewelry Group Annual General Meeting | Toronto
Canadian Recreational Dealers Association of Canada | Las Vegas