Podcast: Play in new window | Download | Embed
Subscribe: RSS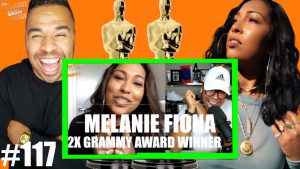 2X Grammy Award Winner, Melanie Fiona drops by the show! I reached out to Melanie because I love her music, but I left falling in love with the human that she is! Melanie from the first second just showed how humble, vulnerable, and strong she is! Usually, when doing these types of interviews, you always know within the first 2 seconds whether the interview is going to be good or GREAT! This was great! Melanie served up so much wisdom, energy, and healing for everyone out there, especially working mothers that want to conquer their dreams, but also want to be the best Mom they can be!
Melanie's Bio:
2x Grammy Award Winning, Canadian Singer/Songwriter & Wellness Advocate
Just like the powerful music itself, Melanie Fiona exudes a soulful charm, wit, and a genuine story-telling ability that expresses both vulnerability and strength. Her distinctive and powerful voice has captivated the hearts and minds of countless souls domestically and internationally. In 2009, Melanie released her debut album, "The Bridge". It was the formal introduction of what would become her classic and diverse soulful signature: melodic tales of empowering and emotional truths. The NY Times named the album one of the year's best R&B releases and iTunes named her Best New R&B/Soul Artist. The album's breakthrough ballad, "It Kills Me", topped Billboard's R&B/Hip-Hop song chart for nine weeks and earned the songstress her first Grammy nomination.
In 2012, the singer released her sophomore project "The MF Life", which featured fan-favorite track "4 AM" and housed collaborations with artists NaS, John Legend, J. Cole and B.o.B. The album reached #1 on the Billboard Top R&B/Hip-Hop Albums chart, and the notable soulful classic "Wrong Side of A Love Song" went on to receive a Grammy Nomination for Best Traditional R&B Performance. Her talent and strength as a songwriter and vocalist caught the attention of Cee-Lo Green, who handpicked Fiona to feature on the feel good hit "Fool For You", which would go on to earn the pair two Grammy Awards for Traditional R&B Performance and Best R&B Song.
Melanie Fiona has toured with several acclaimed artists including Kanye West, Alicia Keys, Mary J Blige and D'Angelo, and often refers to herself as "The Singing Nurse" on stage, uniting the elements of live music and therapy at her shows and speaking engagements. She has been sought after and solicited by top media companies such as Live Nation and Essence, to bring her uplifting voice and expertise in the areas of meditation and wellness. Esteemed publication, Yoga Journal did a spotlight feature on Melanie Fiona, as one of their "Top Spiritual Musicians to Follow". In the budding arena of film and television, Melanie was casted to play the iconic Chaka Khan in Season 2 of American Soul, on BET Networks.
As a new mother, budding philanthropist and creative entrepreneur, Melanie's portfolio continues to expand as a championing voice of inspiration at the intersection of Music, Motherhood and Wellness.
Show Notes:
01:45 – Melanie intro
03:15 – Fatherhood & Parenting
04:38 – How to press the selfless button
05:30 – Being selfish
06:30 – Melanie having her son over age 30
07:00 – How becoming a Mom changed Melanie
08:13 – Melanie's son doing the robot
08:38 – How becoming a Mom changed celebrity & fame aspect
09:45 – transparency is power, controlling your own narrative
10:44 – Melanie sets her own narrative 
11:25 – Melanie on showing her true life to her audience
12:15 – Why fronting brings in the crazy people
13:01 – Why Ryan CREATED the show
14:00 – How Melanie grew in the industry
14:38 – Why Melanie could careless for being relevant and low-frequency commentary
15:15 – Why Melanie's career is a small portion of who she is
16:08 – Melanie's struggle between the music and the artist
17:18 – Nevet gave up music to be a mother (gossip)
18:02 – Melanie interview with DJ Vlad
18:33 – Ryan wanting an authentic chat with Melanie
19:15 – Sacrifice to women, low-frequency commentary
20:12 – Melanie knows her truth
21:10 – Armchair critics
22:30 – People deciding online don't matter and online bullying
23:55 – Words matter
24:10 – Don't deposit your value in a chequing account you do not own
26:00 – Melanie on Twitter
Reach out to Melanie on Instagram here.
Enjoyed this episode? Please leave a Review on iTunes here.
Want to get more exposure and put your business in front of the right audience? Inquire to see how you can advertise your company on the show here.
Watch our full video podcasts on YouTube here. Please also subscribe and click that bell to get notified!
Want to Donate or support the production of the Ryan Holtz Show Podcast?
Become a patron
PayPal Donation
→→→ CONNECT WITH ME ON SOCIAL MEDIA:  ←←←
▶︎ INSTAGRAM | https://www.instagram.com/RyanHoltz1
▶︎ YOUTUBE | https://www.youtube.com/ryanholtz
▶︎ TWITTER | https://twitter.com/ryanholtz1
▶︎ SNAPCHAT | https://snapchat.com/add/ryanholtz1
▶︎ LINKEDIN | https://www.linkedin.com/in/rholtz
▶︎ FACEBOOK | https://www.facebook.com/RyanPHoltz/
▶︎ ITUNES | https://itunes.apple.com/ca/podcast/the-ryan-holtz-show/id1167195878?mt=2
▶︎ WEBSITE | https://ryanholtz.ca/
▶︎ SPOTIFY | https://open.spotify.com/show/2rLdYsJKw5Vb6yoMoV2jhw?si=uxDfBei9SOWbLRcTU50T0Q