Podcast: Play in new window | Download | Embed
Subscribe: RSS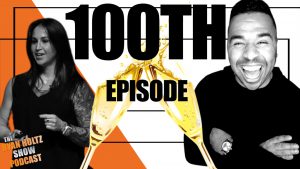 EPISODE 100 BABY! WE did it! By WE I mean: #TeamHoltz which is the Holtz fam, the listeners, the reviewers, the guests ……the whole Squad!!!!! Love you you all so much!
I really do not even know what to write right now as I feel really emotional. This was truly a journey that came from around the back and just exposed so much! This show taught me so much! Each episode had growth, learning, humility, tears, joy, arguments, laughter, love, and just growth! BUT each episode had CURIOSITY! And you know that curiosity is our mandate!
I do not even want to say much more. Because here is what I want to say:
SHOUT OUT TO Jordana Goldlist aka #GoldlistSpecial. Jordana was our first sponsor, but so much more than that. She was a partner and advocate of the show. Jordana, I have already said this to you" but you mean the world to me, the show and #TeamHoltz! Thank you! Let's keep ridin my friend! Connect with Jordana here.
Quotes from show:
12:54 – "I know how to fucking mix content and deliver that shit to the right person at the right time…"
13:26: "I don't do the politically correct…up to curiosity and provoke is our mandate" – great quote there for the show
16:38: "how can you even respond to somebody that's not even being real with you…"
17:15: "How do you reconcile the idea of the need for "real talk" in a world that is becoming increasingly fake and virtual"
22:47 – "There's no better respect you can give to somebody than your undivided attention and time"
23:15 "When someone asks me a great question it's like a drug for me"
22:48 "I want to ask you want metrics you use to define success"
Great question to start a conversation with on social media
34:27″ – Ryan Holtz as a human, were you always curious…"
36:37 – "the more questions I asked the more secure I felt"
Great quote!!!
39:44 "I'm trying to make love to your mind"
42:08 "every time you increase your position in life by 20% you're in the bottom 80%"
48:28 – You will never achieve full successful until you tell your full story on purpose
Fucking love this quote
53:01 – "I've always been running this race against myself"
58:48 "Even having been a lawyer for 12 years, I still spent more of my life as a criminal than as a lawyer…If we allow labels to keep people stuck than you have no choice but to perpetuate the cycle"
109:48 – no one in the world who did anything crazy or great did not get some hate
124:01 – "you gotta get out of the fucking streets and into the fucking boardrooms…"
148:01 –
"I think people forget that they have a responsibility to themselves to do better"
If there was a moment you loved from the show, please email info@ryanholtz.ca and tell me all the details!
Enjoy this episode as this truly is my journey from episode 1 to episode 100!
This episode is dedicated to my wife, my son Daijon, my daughter Talia, my 4 legged daughter Uma and my beautiful Mom who rests easy with Syndey and Ceasar. Love you all! Team work!
Team Holtz loves yah!! 🙂
Enjoyed this episode? Please leave a Review on iTunes here.
Want to get more exposure and put your business in front of the right audience? Inquire to see how you can advertise your company on the show here.
Watch our full video podcasts on YouTube here. Please also subscribe and click that bell to get notified!
→→→ CONNECT WITH ME ON SOCIAL MEDIA: ←←←
▶︎ INSTAGRAM | https://www.instagram.com/RyanHoltz1
▶︎ YOUTUBE | https://www.youtube.com/ryanholtz
▶︎ TWITTER | https://twitter.com/ryanholtz1
▶︎ SNAPCHAT | https://snapchat.com/add/ryanholtz1
▶︎ LINKEDIN | https://www.linkedin.com/in/rholtz
▶︎ FACEBOOK | https://www.facebook.com/RyanPHoltz/
▶︎ ITUNES | https://itunes.apple.com/ca/podcast/the-ryan-holtz-show/id1167195878?mt=2
▶︎ WEBSITE | https://ryanholtz.ca/
▶︎ SPOTIFY | https://open.spotify.com/show/2rLdYsJKw5Vb6yoMoV2jhw?si=uxDfBei9SOWbLRcTU50T0Q