Podcast: Play in new window | Download | Embed
Subscribe: RSS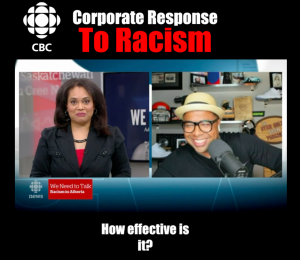 I had the delight of being a panelist on CBC's 1 hour special called WE NEED TO TALK: Systemic Racism In Alberta. Enjoy the clip and let me know your thoughts!
Enjoyed this episode? Please leave a Review on iTunes here.
Want to get more exposure and put your business in front of the right audience? Inquire to see how you can advertise your company on the show here.
Watch our full video podcasts on YouTube here. Please also subscribe and click that bell to get notified!
CBC hosts Sandra Batson and Tanara McLean held a free, public forum discussion on Thursday, June 25, to shine a light on systemic racism in Alberta, through the stories of people who have experienced it firsthand.
We Need to Talk was an opportunity to hear from individuals with a real and personal understanding of how systemic racism operates in Alberta, with an aim to put forward potential solutions, concrete actions, and examples of success.
Following the death of George Floyd, a 46-year-old Black man killed by white police officer Derek Chauvin in Minneapolis on May 25, communities across the globe began to protest in the streets, calling for justice and change.
In Alberta's cities and rural towns, thousands have taken up the call, participating in some of the largest marches in recent memory to spotlight anti-Black injustices within the province itself.
→→→ CONNECT WITH ME ON SOCIAL MEDIA: ←←←
▶︎ INSTAGRAM | https://www.instagram.com/RyanHoltz1
▶︎ YOUTUBE | https://www.youtube.com/ryanholtz
▶︎ TWITTER | https://twitter.com/ryanholtz1
▶︎ SNAPCHAT | https://snapchat.com/add/ryanholtz1
▶︎ LINKEDIN | https://www.linkedin.com/in/rholtz
▶︎ FACEBOOK | https://www.facebook.com/RyanPHoltz/
▶︎ ITUNES | https://itunes.apple.com/ca/podcast/the-ryan-holtz-show/id1167195878?mt=2
▶︎ WEBSITE | https://ryanholtz.ca/
▶︎ SPOTIFY | https://open.spotify.com/show/2rLdYsJKw5Vb6yoMoV2jhw?si=uxDfBei9SOWbLRcTU50T0Q