Podcast: Play in new window | Download | Embed
Subscribe: RSS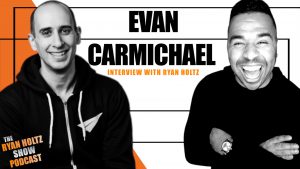 Evan believes in entrepreneurs. At 19, he built then sold a biotech software company. At 22, he was a venture capitalist helping raise $500k to $15mil. He now runs the biggest YouTube channel for entrepreneurs with 2M+ subscribers, wrote 4 books & speaks globally. He wants to solve the world's biggest problem. He's set 2 world records, uses a trampoline & stand-up desk, owns Canada's largest Salsa Dance Studio & has a giant Doritos bag in front of him all day long to remind him that he's stronger than the Doritos. Toronto is his home. He's a husband, father, TSM fan & Teemo Main.
I wanted to have Evan on the show as he is all about believing and giving value to help other humans reach their full potential and unlock their true selves. We are all about providing you value, being curious and most of all, PROVOKE.
As you listen, I open up this episode by referencing the video that Evan's assistant sent over in preparation for our interview. I thought it was amazing, that Evan even tries to help those that interview him. This is why he is who he is with the impact that he has. What was really interesting, is in the video, Evan said "use this time we have together as almost like a coaching call, as the questions/struggles you have will often be shared by other. Be vulnerable." Well, as you know our mandate is curiosity and having REAL talk. This podcast was all about that! I used the podcast to have Evan guide me through my own aspirations and struggles. I hope you enjoy this and I know there is much value to be had!
– #TeamHoltz
Enjoyed this episode? Please leave a Review on iTunes here.
Want to get more exposure and put your business in front of the right audience? Inquire to see how you can advertise your company on the show here.
Watch our full video podcasts on YouTube here. Please also subscribe and click that bell to get notified!
Please check out Evan's new book – Built To Serve – launched last March 17 (here), that would be great.
Also, reach out to Evan on Instagram here.
→→→ CONNECT WITH ME ON SOCIAL MEDIA: ←←←
▶︎ INSTAGRAM | https://www.instagram.com/RyanHoltz1
▶︎ YOUTUBE | https://www.youtube.com/ryanholtz
▶︎ TWITTER | https://twitter.com/ryanholtz1
▶︎ SNAPCHAT | https://snapchat.com/add/ryanholtz1
▶︎ LINKEDIN | https://www.linkedin.com/in/rholtz
▶︎ FACEBOOK | https://www.facebook.com/RyanPHoltz/
▶︎ ITUNES | https://itunes.apple.com/ca/podcast/the-ryan-holtz-show/id1167195878?mt=2
▶︎ WEBSITE | https://ryanholtz.ca/
▶︎ SPOTIFY | https://open.spotify.com/show/2rLdYsJKw5Vb6yoMoV2jhw?si=uxDfBei9SOWbLRcTU50T0Q