Podcast: Play in new window | Download | Embed
Subscribe: RSS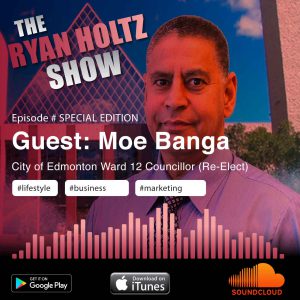 In this episode of The Ryan Holtz Show Podcast, I chat with incumbent City of Edmonton Ward 12 Councillor, Moe Banga about his bid to seek re-election in the October 16, 2017 City Of Edmonton municipal election. We chatted about several hot topics including, education, property taxes, Uber, infrastructure and all things Edmonton including LRT. Moe was a great guest and generous to take some time to come on the show. Thanks Moe!
Why vote for Moe (Taken from his official website here)
Moe has lived in the ward for over 35 years. He and his wife raised their family in the ward. As a police officer he has worked throughout the city. Many of his friends and family also live in the ward.
Moe is heavily involved with amateur sport and other related activities. He has coached youth soccer and played men's soccer for over 30 years. He seeks to promote health and wellness through sport. He has recently come to terms with the fact that he can't move like he once did on a soccer field. More importantly, he has found another passion and calling in life – to give back to the community that has helped him to reach his potential by leveraging his leadership qualities and 'can do' approach.
Even though he didn't realize it early in his life journey, Moe was a leader and a community builder. His passion for coaching was very evident even when he was an athlete himself. More recently, he elevated his game to use the sports analogy. For example, as the President of a not-for-profit organization, Moe championed the construction of a multi-million dollar sports facility in the Ivor Dent Multi-Sport Tournament and Recreation Park. The facility is located in the southeast area of the ward. This venue will host major amateur sporting tournaments and competitions for years to come.