Podcast: Play in new window | Download | Embed
Subscribe: RSS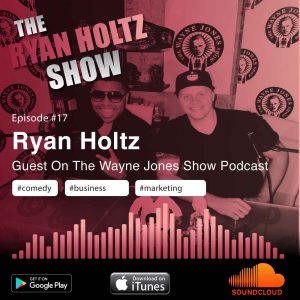 In this episode of The Ryan Holtz Show, I have the pleasure of being a guest on The Wayne Jones Show Podcast. This is an absolute pleasure as I am a huge fan of Wayne and all he does with entertainment.
This podcast leaves no stone unturned as we chat about life, business, comedy and what it really takes to be successful in your craft. Wayne and I throw some profanity into this episode as we are two passionate people who really love what we do and do not want to be just anybody doing anything. We chatted about the loss of parents, giving up bad habits and really implementing forcing functions that set you up for success!
I want to thank all my listeners for tuning in and sending pictures of yourselves using the hashtag #iListenToTheRyanHoltzShowPodcast on Instagram as we will be selecting one lucky winner each month and that winner can choose what charity they would like us to donate $100 too.
Please subscribe and rate the show on iTunes or Google Play.
Listen hard!