Podcast: Play in new window | Download | Embed
Subscribe: RSS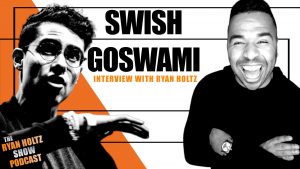 Swish (Manu) Goswami, 23, has built a multi-hyphenate career. He is a serial tech entrepreneur (CEO & Founder of Trufan which recently acquired SocialRank), LinkedIn Youth Editor, three-time TEDx speaker (signed with the Speakers Spotlight & The AAT Project), and UN Youth Ambassador.
I wanted to have Swish on as his energy and outlook on life and success is truly fascinating and next level. I watched a clip of Swish's Ted Talk and loved how he told his story, but also how he designed his life to meet his needs and also bring value to himself, allowing him to better serve people. He made a massive network comprised of NBA players all the way to high net worth VCs. He believes in delivering value upfront so that it is a win-win situation for those he is trying to build a relationship with. He truly believes in hearing 99 no's to get that 1 yes.
You will love this interview as it will teach you the art of selling in 2020 to truly provide value to your customers and your LIFE.
Enjoyed this episode? Please leave a Review on iTunes here.
Want to get more exposure and put your business in front of the right audience? Inquire to see how you can advertise your company on the show here.
Watch our full video podcasts on YouTube here. Please also subscribe and click that bell to get notified!
Reach out to Swish here.
→→→ CONNECT WITH ME ON SOCIAL MEDIA: ←←←
▶︎ INSTAGRAM | https://www.instagram.com/RyanHoltz1
▶︎ YOUTUBE | https://www.youtube.com/ryanholtz
▶︎ TWITTER | https://twitter.com/ryanholtz1
▶︎ SNAPCHAT | https://snapchat.com/add/ryanholtz1
▶︎ LINKEDIN | https://www.linkedin.com/in/rholtz
▶︎ FACEBOOK | https://www.facebook.com/RyanPHoltz/
▶︎ ITUNES | https://itunes.apple.com/ca/podcast/the-ryan-holtz-show/id1167195878?mt=2
▶︎ WEBSITE | https://ryanholtz.ca/