Podcast: Play in new window | Download | Embed
Subscribe: RSS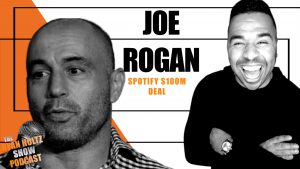 What do you think about Joe Rogan's $100M deal with Spotify?
This is massive for the media and advertising world with a huge focus on content creators such as podcasters etc.
Quick hits:
✅ Spotify's shares increased by 5 BILLION dollars since inking Joe
✅ Traditional radio has become somewhat of a jukebox player with less focus on talent
✅ Media platforms such as Spotify & Netflix are seeking top tier talent to attract eyeballs and attention
✅ 60% of podcast consumption is 60% iTunes but that could change
✅ YouTube lost royally in this deal
✅ Joe Rogan said Charlamagne Tha God might be last good radio host publicly
Enjoyed this episode? Please leave a Review on iTunes here.
Want to get more exposure and put your business in front of the right audience? Inquire to see how you can advertise your company on the show here.
Watch our full video podcasts on YouTube here. Please also subscribe and click that bell to get notified!
→→→ CONNECT WITH ME ON SOCIAL MEDIA: ←←←
▶︎ INSTAGRAM | https://www.instagram.com/RyanHoltz1
▶︎ YOUTUBE | https://www.youtube.com/ryanholtz
▶︎ TWITTER | https://twitter.com/ryanholtz1
▶︎ SNAPCHAT | https://snapchat.com/add/ryanholtz1
▶︎ LINKEDIN | https://www.linkedin.com/in/rholtz
▶︎ FACEBOOK | https://www.facebook.com/RyanPHoltz/
▶︎ ITUNES | https://itunes.apple.com/ca/podcast/the-ryan-holtz-show/id1167195878?mt=2
▶︎ WEBSITE | https://ryanholtz.ca/