Podcast: Play in new window | Download | Embed
Subscribe: RSS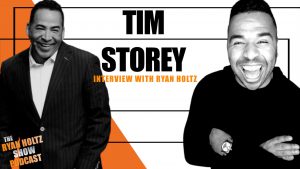 Oprah Winfrey, Quincy Jones, Kanye….these are just a few of the people that my next guest works with as a life coach. His name is Tim Storey and he is the life coach to the stars and makes it look good while he is doing it. I have been following Tim's work for a long time and really wanted to chat with him. His impact on the world cannot even be quantified as he has truly put in the work to be one of the most impactful humans the world has ever saw. I do not want to spoil this episode to much, but if you want to live with abundance and go to the next level, you will want to listen to this podcast!
Show Notes & Highlights:
6:12 He who works his land will have abundance
8:00 Billy D Williams inspired Tim to be a gentleman and have that type of swag
8:48 Book about Michelangelo changed his life
9:36 30 hours of research in a 40 minute talk
10:10 Tim's work ethic
11:37 Tim's belief of God
12:05 Proverbs 12:11 – He who works his land shall have abundance, you gotta plow, but then plant the proper seed. Figure out the right land.
12:59 Consistency is water and that is key to working your land
14:25 How to find the proper land to work
15:56 The dream inside you is already manifesting
18:00 It is ok to try different things to find your passion even if you are not good at it. You do not need to max out in everything.
18:51 Tim talks about how good friends MoTown did not know that they were MoTown.
19:30 Do not run from the mundane. Your miracle could be in motion
20:27 You must be great at being Mundane
21:04 You got to be boring to be exciting
21:50 Take responsibility, liability, leadership and management. Manage your mundane.
22:22 Master your mundane to make room for the magic
23:10 Importance of taking care of your feet
24:25 Tim has great feet, enjoys pedicures and manicures
26:35 A comeback does not mean a go back
27:34 Tim say's Barack Obama's cadence is a 10
28:24 Tim is more of a listener because he is a creative
29:13 Kanye West was working on stronger when Tim was there
30:48 Building himself up by listening rather than just talking
31:15 Only a fool tells his whole heart
33:20 You cannot get an FM radio station on an AM dial. If you are on an AM dial of dealing with people at a lower frequency, you are not going to get where I am coming from you.
35:00 Importance to vet people to figure out your motives
36:00 COVID-19
38:00 Tim's love for the underdog
39:20 Reggie White's introduction of Tim Storey to the NFL
43:30 How to filter out the fakes dishing out content on the internet
45:00 Quincy Jones gave Tim an assignment (Funny part where Tim throws paper behind him)
50:00 When should you go in for the ask?
51:15 Tim wanted to be on the show because of Ryan's essence
52:00 Why Tim says if you play with the wrong guys, you might get injured
52:44 Why playing with someone who does not understand the game might injure you (BEG YOU TO LISTEN TO THIS)
57:20 Tim gives calendar time to people based on principles. (Tim gives Ryan a big compliment)
1:00:00 Tim's comment on James Harden's basketball game. Talks about how he is cooking in the kitchen.
1:01:20 If you build your spot, God will put a spotlight on your spot
1:01:10 What can Ryan do for Tim? (Tim gives Ryan a compliment)
Tim Storey's Bio:
Tim Storey is an acclaimed author, speaker, and life coach helping people create the future they desire.
He has inspired people from all walks of life, from entertainment legends to professional athletes… from executives to deprived children throughout the world. Using seasoned foundational principles and humor to get honest with people so they can overcome the obstacles that are holding them back. Tim has traveled to seventy-five countries and spoken to millions of people. He often meets privately to counsel high-profile leaders in various industries.
Tim has partnered with phenomenal organizations to spread love and hope. Spending time with the Fred Jordan Mission in Los Angeles' Skid Row, Music Unites Day in Los Angeles' Compton schools, and Kid's Haven orphanage in Johannesburg, South Africa.
He leads Congregation Church in Placentia, CA, which meets weekly and provides spiritual insight and direction for people of diverse ages, backgrounds, and needs. He is featured on nationally syndicated Keep the Faith Radio each weekend, providing short inspirational moments and is featured on Steve Harvey TV Facebook LIVE weekly. He was a featured guest on Oprah's SuperSoul Sunday, Steve Harvey TV, Grant Cardone's 10X Growth Con, and many more. Tim has authored multiple books, with the most recent, Comeback & Beyond, being a top seller on Amazon.
Tim has two adult children from his previous marriage and lives in Southern California.
Join Tim's Worldshaker Network here.
Reach out to Tim on Instagram here.
Enjoyed this episode? Please leave a Review on iTunes here.
Want to get more exposure and put your business in front of the right audience? Inquire to see how you can advertise your company on the show here.
Watch our full video podcasts on YouTube here. Please also subscribe and click that bell to get notified!
→→→ CONNECT WITH ME ON SOCIAL MEDIA: ←←←
▶︎ INSTAGRAM | https://www.instagram.com/RyanHoltz1
▶︎ YOUTUBE | https://www.youtube.com/ryanholtz
▶︎ TWITTER | https://twitter.com/ryanholtz1
▶︎ SNAPCHAT | https://snapchat.com/add/ryanholtz1
▶︎ LINKEDIN | https://www.linkedin.com/in/rholtz
▶︎ FACEBOOK | https://www.facebook.com/RyanPHoltz/
▶︎ ITUNES | https://itunes.apple.com/ca/podcast/the-ryan-holtz-show/id1167195878?mt=2
▶︎ WEBSITE | https://ryanholtz.ca/