Podcast: Play in new window | Download | Embed
Subscribe: RSS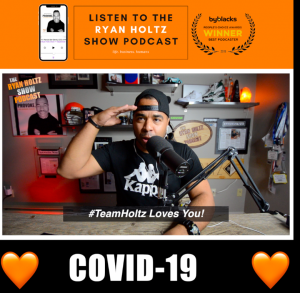 We all have a plan until that first punch in the face happens! Hello COVID-19! I wanted to check in with you all to see how you are doing and rather than going through depressing statistics like every news channel and social media platform has right now. I thought I would hop on here and give you all a hug and tell you we will get through this! PLEASE social distance and help flatten the curve! I know with what is happening right now, it has impacted absolutely everybody! Have faith and keep smiling! Message me if you need any help at all! #TeamHoltz has got you covered!
Enjoyed this episode? Please leave a Review on iTunes here.
Want to get more exposure and put your business in front of the right audience? Inquire to see how you can advertise your company on the show here.
Watch our full video podcasts on YouTube here. Please also subscribe and click that bell to get notified!
→→→ CONNECT WITH ME ON SOCIAL MEDIA: ←←←
▶︎ INSTAGRAM | https://www.instagram.com/RyanHoltz1
▶︎ YOUTUBE | https://www.youtube.com/ryanholtz
▶︎ TWITTER | https://twitter.com/ryanholtz1
▶︎ SNAPCHAT | https://snapchat.com/add/ryanholtz1
▶︎ LINKEDIN | https://www.linkedin.com/in/rholtz
▶︎ FACEBOOK | https://www.facebook.com/RyanPHoltz/
▶︎ ITUNES | https://itunes.apple.com/ca/podcast/the-ryan-holtz-show/id1167195878?mt=2
▶︎ WEBSITE | https://ryanholtz.ca/