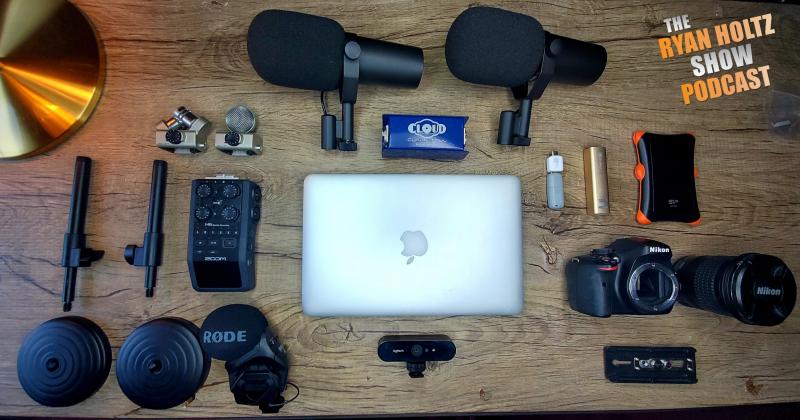 Alright! So one of the most asked questions I have been getting is: "Ryan, what podcast gear do you use?"
Glad you asked! Now, when I was researching equipment for the Ryan Holtz Show Podcast, I knew I needed equipment that would be great quality, but very easy to pack as I take my show on the road often. So, with this in mind, size and quality was everything and I was willing to pay for it! And after 93 episodes, I can fully vouch that this gear will get the job done…..always!
Below is is my gear bag list with Amazon links. Please note that these are affiliate links which means that I will get a small commission should you decide to purchase any of the equipment. Let me extend my gratitude as this helps to support the show!
My Gear:
(Microphone) Shure SM7B https://amzn.to/2Up660t
(Cloud Lifter) https://amzn.to/2Ul90mH
(Microphone Arm/Stand) https://amzn.to/3amZmFR
(Portable 2TB External Hard Drive) https://amzn.to/2vVXpkO
(Zoom H6 Audio Interface & Recorder) https://amzn.to/39hhfVa
(Logitech 4k Brio Pro) https://amzn.to/3dwnTtT
(Light Ring) https://amzn.to/3an2p0x
(Nikon d5100) https://amzn.to/3dvaT7X
(Audio Technica ATR-2100 Microphone) https://amzn.to/2xoozRM
(Macbook Air) https://amzn.to/3aiAuyW
I would love to know your thoughts, and please drop a link in the comments to your show OR the name of your show so I can take a listen. Also, please subscribe and review our podcast here.
→→→ CONNECT WITH ME ON SOCIAL MEDIA: ←←←
▶︎ INSTAGRAM | https://www.instagram.com/RyanHoltz1
▶︎ YOUTUBE | https://www.youtube.com/ryanholtz
▶︎ TWITTER | https://twitter.com/ryanholtz1
▶︎ SNAPCHAT | https://snapchat.com/add/ryanholtz1
▶︎ LINKEDIN | https://www.linkedin.com/in/rholtz
▶︎ FACEBOOK | https://www.facebook.com/RyanPHoltz/
▶︎ ITUNES | https://itunes.apple.com/ca/podcast/the-ryan-holtz-show/id1167195878?mt=2
▶︎ WEBSITE | https://ryanholtz.ca/