Podcast: Play in new window | Download | Embed
Subscribe: RSS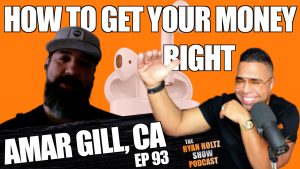 Financial Literacy is a huge topic and also a topic that is very important to me. I think knowing and understanding your finances is the cornerstone of living a healthy and prosperous life. I do not think you need to make a ton of money to live a good life, but you better know how to use the money you are making in smart and practical ways. Make your money work for you, but also help your money work for you by being educated. My good friend and trusted resource Amar Gill who has been a Chartered Accountant for 15 plus years and reached out to share his wisdom with YOU and also to sponsor our podcast. As you know from listening to the show, we are always seeking sponsors, but sponsors who are interested in adding value to the show with their specific expertise etc. Anyhow, Amar is here to do just that! He will be talking about money, how to balance your books and how to make each dollar work for you. Oh, and did I mention he also has his own podcast called Do Bad Things To Do Good? Check it out!
Amar and I cover everything from free tools for bookkeeping all the way to tactics to stay on top of your revenue throughout the year. If you are in business and looking to get some good accounting tips and tricks that you can do from the comfort of your own home, this episode is for you!
Enjoyed this episode? Please leave a Review on iTunes here.
Want to get more exposure and put your business in front of the right audience? Inquire to see how you can advertise your company on the show here.
Check out our podcast on YouTube here. Please also subscribe and click that bell to get notified!
Amar's BIO & Socials
Amar Gill (ag2) is a Chartered Accountant and Specialized Business Advisor with over 15 years of experience both at the national and international level. He provides consulting and advisory services for small to medium sized businesses in Finance, Operations and Capital Investment.
He is also the host of the Do Bad Things To Do Good podcast which specializes in real life stories that highlight just how much stranger the truth is from fiction "
Insta: agill2103
Twitter: ag_twice
email: amargillca@gmail.com
Episode Sponsored By Amar Gill
→→→ CONNECT WITH ME ON SOCIAL MEDIA: ←←←
▶︎ INSTAGRAM | https://www.instagram.com/RyanHoltz1
▶︎ YOUTUBE | https://www.youtube.com/ryanholtz
▶︎ TWITTER | https://twitter.com/ryanholtz1
▶︎ SNAPCHAT | https://snapchat.com/add/ryanholtz1
▶︎ LINKEDIN | https://www.linkedin.com/in/rholtz
▶︎ FACEBOOK | https://www.facebook.com/RyanPHoltz/
▶︎ ITUNES | https://itunes.apple.com/ca/podcast/the-ryan-holtz-show/id1167195878?mt=2
▶︎ WEBSITE | https://ryanholtz.ca/