Podcast: Play in new window | Download | Embed
Subscribe: RSS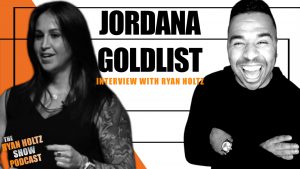 How do I know my lawyer is not ripping me off? How do I know my lawyer is working for me? How do I choose the right lawyer? What questions should I ask in my consultation with a lawyer? How do I know this lawyer understands my type of case and can argue the best defense? Glad you asked all these amazing questions! Jordana Goldlist, Criminal Defense Attorney drops by the show to answer all of these amazing questions for you! We all would like to think that we will never be involved, nor need a criminal defense lawyer, but life happens. So if it does, arm yourself with the knowledge to ensure you have the best defense possible. After all, your life may just depend on it!
Enjoyed this episode? Please leave a Review on iTunes here.
Want to get more exposure and put your business in front of the right audience? Inquire to see how you can advertise your company on the show here.
Watch the full video podcast on YouTube here. Please also subscribe and click that bell to get notified!
Episode Sponsored by: JHG Criminal Law
→→→ CONNECT WITH ME ON SOCIAL MEDIA: ←←←
▶︎ INSTAGRAM | https://www.instagram.com/RyanHoltz1
▶︎ YOUTUBE | https://www.youtube.com/ryanholtz
▶︎ TWITTER | https://twitter.com/ryanholtz1
▶︎ SNAPCHAT | https://snapchat.com/add/ryanholtz1
▶︎ LINKEDIN | https://www.linkedin.com/in/rholtz
▶︎ FACEBOOK | https://www.facebook.com/RyanPHoltz/
▶︎ ITUNES | https://itunes.apple.com/ca/podcast/the-ryan-holtz-show/id1167195878?mt=2
▶︎ WEBSITE | https://ryanholtz.ca/