Podcast: Play in new window | Download | Embed
Subscribe: RSS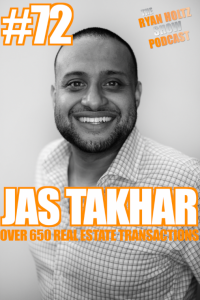 Jas runs the 3rd largest team for Royal Lepage in Canada and is a beast when it comes to real estate. I really wanted to have Jas on the podcast to bring some value to YOU. We get many of you sending us messages asking for content surrounding real estate which is one of my passions. So, it was great to get a great and knowledgeable real estate professional to drop some knowledge and reveal all the "secrets" to success in the real estate game all while producing some amazing content for his podcast and youtube channel.
Enjoyed this episode? Please leave a Review on iTunes here.
We chatted about:
> Sales and Service strategies
> What producing content has done for my business and brand
> Building a team of 35 loyal salespeople and support staff
> How hard work can look effortless, but is really not
> Why it is so important to produce content for your business
> The importance of personal development
Jas's Bio:
Jas has interviewed people ranging from Evan Carmichael all the way to Million Dollar Listing Star, Ryan Serhant. Jas Takhar is an award-winning realtor, forward-thinking leader and cutting edge entrepreneur. He facilitates over 650 property transactions each year in every asset class with his team that sit comfortably in the top 3 brokerages in Canada. He is the primary content creator of REC and the host of the REC Experience podcast, where he dispenses advice for anyone at any stage of professional expertise.
Reach out to Jas here.
→→→ CONNECT WITH ME ON SOCIAL MEDIA: ←←←
▶︎ INSTAGRAM | https://www.instagram.com/RyanHoltz1
▶︎ TWITTER | https://twitter.com/ryanholtz1
▶︎ SNAPCHAT | https://snapchat.com/add/ryanholtz1
▶︎ LINKEDIN | https://www.linkedin.com/in/rholtz
▶︎ FACEBOOK | https://www.facebook.com/RyanPHoltz/
▶︎ ITUNES | https://itunes.apple.com/ca/podcast/the-ryan-holtz-show/id1167195878?mt=2
▶︎ WEBSITE | https://ryanholtz.ca/