Podcast: Play in new window | Download | Embed
Subscribe: RSS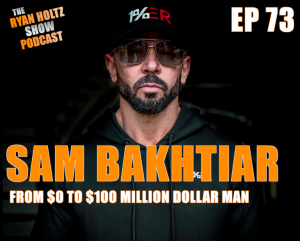 Sam Bakhtiar stops by the show to share his story of going from being broke with a single mom, immigrating over from Iran alllllll the way to owning a 100 plus gyms and having a global impact! I have followed Sam for some time and after doing my digital deep dive, I just loved what he is about. To see someone who has had meteoric success be so humble and want to have such an amazing impact! I had to have him on to provide YOU value! Sit back, pull out your notepad and get ready to be enlightened. This episode is one that you will want to listen to a few times. Thanks Sam for coming on! Always remember that curiosity should be your mandate. Enjoy!
Enjoyed this episode? Please leave a Review on iTunes here.
Sam's Bio:
Sam Bakhtiar is a doctor, CEO, author, world-class bodybuilder, and multi-millionaire entrepreneur. He runs a fitness franchising business, The Camp Transformation Center, with 110 locations and two different supplement and nutrition companies. With a Bachelor's degree from Pennsylvania State University in sports science and life science and a doctorate from Los Angeles College of Chiropractic, Dr. Bakhtiar has helped over one hundred thousand people transform physically and mentally. He specializes in helping people get to the top 1% in any and every aspect of their life. Dr Bakhtiar applies his business acumen and coaching to The 1% Club, helping others to become a 1%er by rising above. He is also the author of the popular books The Total Body Transformation Secrets and Becoming a One Percenter.
Sam and I chat about:
1. Being broke
2. Growing up in a fatherless household
3. Having a tough upbringing
4. Being bombed on in Iran
5. Dealing with racism as a child
6. Why waking up at 3am and why it is important to overall success
7. Poor me or try me
8. Importance of being a great Dad and Husband
9. Why fitness is life
10. Being financially smart with money
In short, Sam is an icon and there is something in this interview for absolutely everybody!
Reach out to Sam on Instagram here.
→→→ CONNECT WITH ME ON SOCIAL MEDIA: ←←←
▶︎ INSTAGRAM | https://www.instagram.com/RyanHoltz1
▶︎ TWITTER | https://twitter.com/ryanholtz1
▶︎ SNAPCHAT | https://snapchat.com/add/ryanholtz1
▶︎ LINKEDIN | https://www.linkedin.com/in/rholtz
▶︎ FACEBOOK | https://www.facebook.com/RyanPHoltz/
▶︎ ITUNES | https://itunes.apple.com/ca/podcast/the-ryan-holtz-show/id1167195878?mt=2
▶︎ WEBSITE | https://ryanholtz.ca/