Podcast: Play in new window | Download | Embed
Subscribe: RSS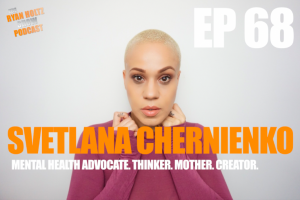 Svetlana Chernienko joins me on the show to share her prolific and epic story. Svetlana is a domestic abuse survivor and mental health advocate. Having battled with mental health herself and surviving suicide gives her a very real experience of how important bringing awareness to mental health is. Svetlana has a massive presence on social media and in the news media given her courage and absolute strength to bring conversation to a topic that still very much today is surrounded with stigma. We share laughs, talk about very serious subjects, but unpack it neatly with the context of 2 friends just having a chat. We have never met, nor spoke prior to recording, but quickly became friends through the podcast. I hope you enjoy and as always, please like, comment and share to help bring awareness!
Enjoyed this episode? Please leave a Review on iTunes here.
Reach out To Svetlana here.
Svetlana's Bio:
Svetlana Chernienko is a Canadian and American model, actress, writer, dancer , businesswoman. She is also an advocate for mental health, anti- bullying and domestic violence, supporter of the #Metoo movement, and the LGBTQ Foundation and Women's Equal Rights Foundation as well as a member of the Diversity and Inclusion Foundation.
Svetlana Chernienko lives in Montreal, Canada, with her 4 children. She is a descendant of Russians, Belorussians, American slaves, Native American Indians, Nigerians, and Brazilians. Professionally, Svetlana is an Actress, Model, Motivational Speaker, Dance Instructor and owner of the cosmetics company, Clozet Freak Cosmetics Inc. Although she has accomplished much and, some may be surprised to find out that she gained these titles all while battling mental illness and physical abuse. As a child, Svetlana studied the classical poses of ballet, while at the same time learning about strength from her parents, who made sure to teach her how to overcome the hurdles that life may throw her way. Examples of how to do this were seen in her grandmother's experience and survival during her time in a concentration camp. Svetlana's father also demonstrated courage as a member of the United States Military, in which he received a Purple Heart. After his death in September of 2014, President Barack Obama personally sent Svetlana a letter, showing his gratitude for her father's service.
As Svetlana got older, life brought many opportunities her way. She started her own company, found inspiration from her Makeup Artist mother, became an actress, and even worked with causes that
supported the LGTB Community and PETA. However, as her life brought good moments, it also brought bad ones too. Like many women, Svetlana was a victim of domestic abuse. As a result, she spent more than 15 years, battling Generalized Anxiety Panic Disorder, Post Traumatic Stress Disorder, and Depression. The abuse she suffered, is the same abuse that has unfortunately ended the lives of far too many others. As a true survivor, unwilling to let her circumstances steal her happiness, Svetlana began fighting for the better life she knew she and other women deserved. Using her family's core values of integrity, decency, and honor, she began to rebuild her life. As a lover of travel, she visited West Africa, where she learned several tribal dances from Nigeria, Ghana, and the Ivory Coast. After living in West Africa for 2 years, she returned to North America and privately taught other women African dances. After reinventing her dance studio to cater more towards artists, mental health awareness and community, Svetlana now works to guide young women and mothers as they overcome abuse and mental illness. Now as a Mental Health Advocate and Domestic Abuse Survivor, she uses the same values that got her through her worst years and that she now instills in her own children, to help others to find victory in their battles. Svetlana's mission is to erase the stigma of mental illness and build up her community so that no matter what they may be facing, they can find hope and rest easy knowing that they have the support needed to carry on.
GLOBAL NEWS MONTREAL : (Mental Health week May 7 2018) https://globalnews.ca/video/rd/1227331139643/
IMDB: http://www.imdb.com/name/nm2999469/
The Nalie Show : https://youtu.be/3uwmIgZmuyE
Global News : https://globalnews.ca/video/3053570/twerk-for-a-cause
Malik Shaheed Show:
https://www.facebook.com/malikshaheedtv/videos/690558077765781/
Wise Women Canada CJAD 800AM:
https://www.facebook.com/wisewomencanada/videos/1734138266660
*** CONNECT WITH ME ON SOCIAL MEDIA ***
Instagram | https://www.instagram.com/RyanHoltz1
Instagram | https://www.instagram.com/ryanholtzshowpodcast/
Twitter | https://twitter.com/ryanholtz1
Snapchat | https://snapchat.com/add/ryanholtz1
LinkedIn | https://www.linkedin.com/in/rholtz
Facebook | https://www.facebook.com/TheRyanHoltzShowPodcast/
iTunes | https://itunes.apple.com/ca/podcast/the-ryan-holtz-show/id1167195878?mt=2