Podcast: Play in new window | Download | Embed
Subscribe: RSS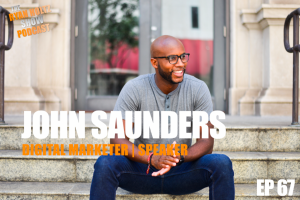 PROCESS helps us to scale in all aspects of our life, both personally and professionally. My next guest, John Saunders of 5Four Digital based in Florida is a process machine. I wanted to have him on the podcast to give us some tips and tricks to help define and refine our processes on all levels. John has a great business background when it comes to digital marketing so him and I connect in that space. John and I do things differently, but there are also some synergies, so this podcast will have you walk away with some actionable strategies and also help you look at yourself personally for some personal growth. As always, we would love your thoughts on social media and please share and review our podcast on your favourite podcast listening app!
We talk about:
Productive Vs. Busy: How Delegation and Process Helped Me Escape the "Always Busy" Mantra
– Fell Asleep @ Wheel Due to Exhaustion, Had to Make a Change
– Birth of Son Helped Me Realign and Develop a Process to Scale Biz
– Affordable/Free Hacks/Tactics to Increase Output
John and I also talk about some great free tools that will help you scale your business and also some great life hacks to maximize output with less input.
Here is the list of free online digital marketing tools here.
John's Bio
I've been in the digital space for 8+ years, cultivating the brand strategy for clients like Land Rover, Audi, and the NAACP.
Via Digital Marketing, I've focused on providing VALUE and SALES via Content Marketing, Web Development, SEO and Social Media. 'Leveraging my skills, I've sold 3e-commerce businesses without outside funding and manage a remote team of 8+ team members at an award-winning Marketing Agency.
*** CONNECT WITH ME ON SOCIAL MEDIA ***
Instagram | https://www.instagram.com/RyanHoltz1
Instagram | https://www.instagram.com/ryanholtzshowpodcast/
Twitter | https://twitter.com/ryanholtz1
Snapchat | https://snapchat.com/add/ryanholtz1
LinkedIn | https://www.linkedin.com/in/rholtz
Facebook | https://www.facebook.com/TheRyanHoltzShowPodcast/
iTunes | https://itunes.apple.com/ca/podcast/the-ryan-holtz-show/id1167195878?mt=2