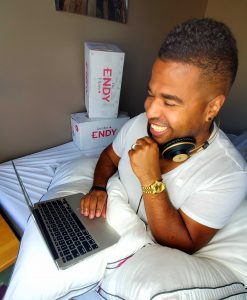 My Endy 100 night review (and then some)! Ok, what's up fam! Now, as you know I partnered with Endy quite a few months back and I am late on this review, but what can I say? I have been busy sleeping! Just jokes! Actually, my wife was pregnant and has now given birth to our beautiful daughter and our 2 and a half year old son has been keeping us on our toes literally! Oh and our businesses, but anyway…….you get it. It is called life.
Now as you know, life is busy and your sleep is a direct correlation of your health and overall productivity. I am humbled to partner with Endy, as they are a Canadian brand that is really revolutionizing the way people sleep!
So, let's cut to the chase, is the Endy mattress a great mattress? I can honestly say it is amazing, but let me give you some context. My wife and I have always loved mattresses that are a bit firmer and that do not give you the see-saw affect when one of us rolls over, also known as the weight transfer system that Endy has managed to perfect. This means that when you want to perhaps turn over and slobber on your partner, they might just not feel you coming until the actual drool hits. Yes I said that. You know I gotta keep it 100 and everyone on social media is often trying to post their best life, I am posting my real life in hopes that this will help you in your mattress buying journey.
Another pro that I love about Endy is their direct to consumer approach where you order online and booooooommmmmm! It is at your door. Now I want to remind you when my #EndyPartner journey began, my wife was pregnant. Ladies, you know how important a mattress is especially when you are sleeping on your side for months, things can get a little crazy! This leads me to the endy pillows……..honestly….not a pillow I would most likely get again as we love a flatter pillow, but again, that is our personal preference where we have had friends over and they tried the Endy pillow and loved it! You decide what is best for you.
When I often am researching products and services, I read reviews, but am highly skeptical as I know brands work with people and this could possibly skew the overall review. Endy is not a brand that does this at all. They were up front from the get and simply said "Ryan we would love to work with you to get your HONEST review." Again, this is what separates Endy from the pack, they truly are a brand of people that want to create and produce a product that helps people sleep better. Did you just hear me say "people"? Yes…….people!
If you have any questions or would like to ask me about my experience, hit me up on the socials at @RyanHoltz1 ……you can also reach out to Endy @Endy and remember, I am here to serve and assist in helping you sleep better minus the drool hehe.
I want to also let you know that I will be interviewing the Endy CEO on my podcast to go in depth about the Endy journey, so stay tuned for that!
Visit Endy.ca and drop the code "HOLTZ50" to save 50 dollars on your purchase. You are welcome.