Podcast: Play in new window | Download | Embed
Subscribe: RSS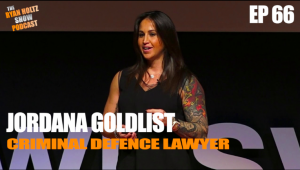 Jordana Goldlist spent the better part of her teenage years in and out of group homes struggling with addiction. Fast forward a couple decades and now Jordana is using her success as a roadmap of inspiration and strategy of how teenagers do not have to follow the same path as her. Her dynamic TEDx talk on "Who Judges The Judge?" is a blueprint of her journey.
In this episode, Jordana and I chat about her journey and really focus on what today's teenagers are facing and what they can do to get through and see the light at the end of the tunnel.
Jordana has committed to coming on the show to offer her insights both legally and personally once per month. I am excited to have a mind like hers provide immense value to you, our listeners!
This podcast is sponsored by JHG Criminal Law.
Reach out to Jordana on Instagram here.
About Jordana
Jordana H. Goldlist began exploring her passion for law in 2000, when she started her studies at York University on a full academic scholarship. Jordana graduated in 2004, earning an Honours Degree in Philosophy and graduating on the Dean's List. In 2007, she graduated from Osgoode Hall Law School and completed the bar admissions course administered by the Law Society of Upper Canada in 2008. During her studies at Osgoode, Jordana volunteered with the Artist's Legal Advice Service, a legal aid clinic offering advice to artists, musicians, and actors navigating within the entertainment industry.
Jordana began her legal career as a Civil Litigator, focused on corporate commercial disputes, including fraud, misappropriation of funds, and breach of trust claims. She articled and worked as an associate at Landy Marr Kats LLP, a small firm of dedicated lawyers that allowed her take lead on substantial steps in various proceedings. As a second year associate, Jordana had carriage of her own files and was accountable to the clients she represented. Jordana learned how to negotiate the best results, as quickly as possible, and in the most efficient fashion. Civil litigation taught her to strategize, but her passion kept steering her towards criminal law.
*** CONNECT WITH ME ON SOCIAL MEDIA ***
Instagram | https://www.instagram.com/RyanHoltz1
Instagram | https://www.instagram.com/ryanholtzshowpodcast/
Twitter | https://twitter.com/ryanholtz1
Snapchat | https://snapchat.com/add/ryanholtz1
LinkedIn | https://www.linkedin.com/in/rholtz
Facebook | https://www.facebook.com/TheRyanHoltzShowPodcast/
iTunes | https://itunes.apple.com/ca/podcast/the-ryan-holtz-show/id1167195878?mt=2