Podcast: Play in new window | Download | Embed
Subscribe: RSS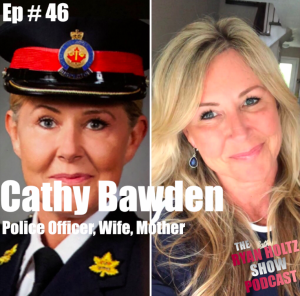 Police Inspector Cathy Bawden stops by the show to chat about leadership, diversity and inclusion in the police culture and in life. Cathy also chats about being a Mom, Wife and leader both in her professional and personal life. I recently crossed paths with Cathy on LinkedIn and found it fascinating how she managed to combine her personal life and being a police officer ultimately having a huge impact. Cathy exudes energy and gratitude. I am super pleased to welcome her to the podcast and I am certain you will get a tremendous amount of useful and actionable information. No matter the mood you are in, this episode will leave you full of gratitude and a positive perspective to bring you one step closer to a better you. Happy listening!
Cathy's Bio:
Cathy is an accomplished police officer and leader. Now in her 28th year, Cathy has broad experience in uniform, investigative and administrative roles and is currently an Inspector for the Diversity, Equity and Inclusion Unit for the Durham Regional Police Service.
Cathy has faced many personal and professional obstacles, including cultural and gender barriers. Rather than allowing these challenges to thwart her ambitions, she has used each experience as a source of learning and inspiration and to champion diversity, inclusion and equity efforts in the workplace. Her willingness to share these experiences and her lessons learned with others has earned her national and international recognition as a leader.
Cathy continues to actively mentor and coach dozens of women and men within the policing profession and maintains a strong professional network to support her both internal and external to the DRPS. In addition to her work with the DRPS, Cathy supports the development of police leaders internationally through a fellowship programs provincially and internationally.
You can reach out to Cathy on LinkedIn here.
*** CONNECT WITH ME ON SOCIAL MEDIA ***
Instagram | https://www.instagram.com/RyanHoltz1
Instagram | https://www.instagram.com/ryanholtzshowpodcast/
Twitter | https://twitter.com/ryanholtz1
Snapchat | https://snapchat.com/add/ryanholtz1
LinkedIn | https://www.linkedin.com/in/rholtz
Facebook | https://www.facebook.com/TheRyanHoltzShowPodcast/