Podcast: Play in new window | Download | Embed
Subscribe: RSS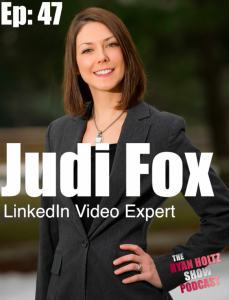 In this episode, we chat with LinkedIn Video Marketing expert Judi Fox. Judi is someone who is a true practitioner of her craft and genuinely sincere in her abilities to help others succeed in their goals and dreams both personally and professionally. Judi has done many interviews and a ton of them center around her video creation and content creation abilities to help businesses level up on their online marketing. I wanted to touch on the other side of Judi as her passion, empathy and excitement for life transcends video and I think that YOU the listener can benefit from hearing Judi's journey that led her to the remarkable position she currently is in. She is a boss and also an amazing single mother. Judi talks about the value of therapy and also having a coach to help figure out who you are to become your full self. Tons of value and inspiration in this episode!
Again, thank YOU for listening and if this content has helped you, please share and drop a review! Spread the value 🙂
– #TeamHoltz
Judi's Bio
Judi Fox – Video and Content Marketing Strategist
"Judi Fox gets you the results and opportunities you want from your content. With her 20 years in Management and Direction level positions at Fortune 500 companies she combines her experience and #FoxRocks brand super powers, which is energetic, enthusiastic, and results oriented. She hit 1 million views in 5 months on LinkedIn and reverse engineered content marketing and now brings her clients strategies and creative direction that create results to increase community engagement, inbound leads, and business opportunities."
Reach out to Judi on LinkedIn here.
*** CONNECT WITH ME ON SOCIAL MEDIA ***
Instagram | https://www.instagram.com/RyanHoltz1
Instagram | https://www.instagram.com/ryanholtzshowpodcast/
Twitter | https://twitter.com/ryanholtz1
Snapchat | https://snapchat.com/add/ryanholtz1
LinkedIn | https://www.linkedin.com/in/rholtz
Facebook | https://www.facebook.com/TheRyanHoltzShowPodcast/