Podcast: Play in new window | Download | Embed
Subscribe: RSS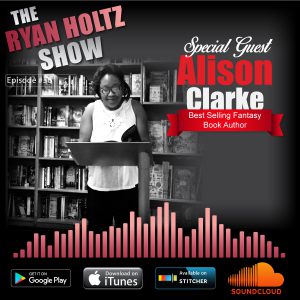 Award winning fantasy author, Alison Clarke joins me on this episode to chat! Alison shares her journey from being a passionate young writer to using writing as a lifeline and outlet. Alison eventually followed her passion and dreams of becoming a published writer and can now say that she has reached this goal. She signed with a British publisher.
I wanted to have Alison on the podcast as I met her at an engagement that I was speaking at and was fascinated by her story! Alison is unique in her accomplishments, personality and the way she tackles life as a whole! If you have ever wondered about writing a book or wanting to know where to start, Alison sheds some light on the creative and business process.
Alison is the proud author of The Sisterhood and Racine.
Enjoy this episode!
Connect with Alison here.

Join Our Facebook Community!
Facebook Group | https://www.facebook.com/groups/2051291358485834/
**** CONNECT WITH ME ON SOCIAL MEDIA ****
Instagram | https://www.instagram.com/RyanHoltz1
Instagram | https://www.instagram.com/ryanholtzshowpodcast/
Twitter | https://twitter.com/ryanholtz1
Snapchat | https://snapchat.com/add/ryanholtz1
LinkedIn | https://www.linkedin.com/in/rholtz
Facebook | https://www.facebook.com/TheRyanHoltzShowPodcast/