Podcast: Play in new window | Download | Embed
Subscribe: RSS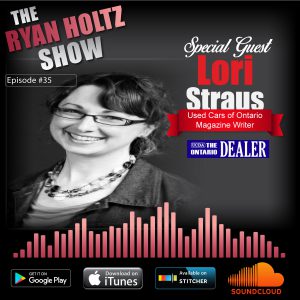 In this episode of The Ryan Holtz Show I am interviewed by Lori Straus, professional copywriter on behalf Of The Ontario Used Car Dealer Magazine. Lori wanted to have me shed some light on where I see digital marketing for auto dealers headed in 2018. I thought to myself, this is perfect to do an impromptu podcast! Lori has been in my network for a few years now and I absolutely love what she does and her overall writing style. There is some great digital and social media strategies for car dealerships, not just in Ontario, but in all of Canada in this interview! Below is a summary of shownotes:
Shownotes:
1. How auto dealers can get free and earned media through traditional publications
2. Importance of having a clean website that clearly states the best person to contact for media inquiries
3. Lori uses HARO (Help A Reporter Out) which is basically a service that helps find sources on specific subjects for reporters, or I like to call it a ramped up version of Tinder, except just for reporters lol
4. How dealers can increase their organic reach by becoming patient and community minded with their social media posts
5. How can used car dealerships get attention by their local media
6. Importance of car dealers adopting the mentality of inbound leads by putting out content that actually stirs up awareness rather than just self serving content
7. The importance of understanding the the bottom line and sales has somewhat changed and so should the dealer's marketing efforts
8. Importance of dealers being transparent and focusing on community
9. Examples of local events such as car seat clinics, support local campaigns etc
10. Educating the customer on how to maintain and properly service their vehicle
11. Be strategic about their "lost souls" and "customer touch campaigns".
There is so much in this episode and it truly will help any dealer principal, sales manager and marketing manager. Stay tuned for the written article by Lori in the magazine!
As always, we love to hear what you have to say or feedback on the episode!
Curiosity is our mandate.
Reach out to Lori Straus here.
Join Our Facebook Community!
Facebook Group | https://www.facebook.com/groups/2051291358485834/
**** CONNECT WITH US ON SOCIAL MEDIA ****
Instagram | https://www.instagram.com/RyanHoltz1
Instagram | https://www.instagram.com/ryanholtzshowpodcast/
Twitter | https://twitter.com/ryanholtz1
Snapchat | https://snapchat.com/add/ryanholtz1
LinkedIn | https://www.linkedin.com/in/rholtz
Facebook | https://www.facebook.com/TheRyanHoltzShowPodcast/