Podcast: Play in new window | Download | Embed
Subscribe: RSS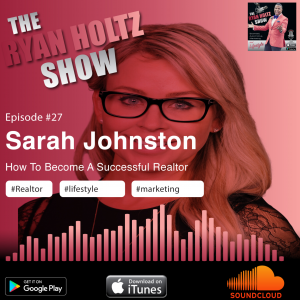 In this episode of The Ryan Holtz Show Podcast, I chat with guest Sarah Johnston, Realtor in Calgary! She is absolutely amazing and brings some much needed punch to the real estate game! Sarah brings and exudes her personality in her practice. You can see her dancing in a room all by herself before a key release all the way to even watching her make fun of herself. She is absolutely amazing! She is real and that is what this show is all about. If you are someone who is in business, looking for personal growth or just needs some motivation to pick yourself up and pursue your dreams, this one is for you! Enjoy!
Bio:
As a current Director with the Calgary Real Estate Board, Sarah has realized the importance of giving back. From sharing her experiences and stories online to speaking in front of large crowds or meeting other REALTORS (r) for coffee, Sarah is trying to raise the bar of real estate. Her self-depreciating humour makes an easy entrance for anyone and has made her a fan favourite for nationwide podcasts and interviewers alike. Of course, she has to have some downtime too and that is usually spent with her horse, dog, pretending to enjoy yoga, or yelling at herself on the golf course.
Summary of Talking Points & Shownotes:
1. How to do real estate your way and be true to yourself and your home buying/selling clients
2. How Sarah uses social media to engage with her audience and ultimately send more leads to the top of her sales funnel also known as inbound marketing
3. Why Sarah wanted to become a Realtor
4. How Real Estate can impact personal relationships and sacrifices that need to be made for a new Realtor to be successful
5. Staying out of the Real Estate Industry gossip
6. Why she would not tell people she was a Realtor and how she overcame the negative stigma that goes with Realtors
7. Why she is an advocate of tougher licensing requirements in order to ensure increased quality of new Realtors coming into the Industry
8. Why Sarah does not ever do the elevator pitch and goes about attracting home buyers and sellers in creative, memorable and impactful ways
9. She discusses haters and people who are negative
10. We discuss pros and cons of having a home office and how it can be distracting for many people, but be a really good thing for others!
11. We talk about how she likes ninja selling and Brian Buffini as a few of the sales tools that she has used in the past
12. Importance of having a strict schedule and sticking with it. Sarah suggests that anyone that wants a life that they can just relax is looking in the wrong direction if they are looking to become a successful Realtor.
13. We talk about eliminating financial burdens and pressure when getting into Real Estate or any entrepreneurial endeavour as it can take months before you see a dime from all of your efforts!
14. She talks about affirmations and how she writes lines in her journal every single day
15. "I am happy selling X number of homes per month." or "I am happy earning X number of dollars per year."
16. Importance of yoga and positive psychology to start your day in the morning
17. IMPORTANCE of having personal quiet time as being a type-A personality is exhausting
Reach out to Sarah on Instagram here.
Drop us a COMMENT below and be sure to REVIEW us on iTunes or Google Play! We appreciate it!
**** CONNECT WITH ME ON SOCIAL MEDIA ****
Instagram | https://www.instagram.com/RyanHoltz1
Instagram | https://www.instagram.com/ryanholtzshowpodcast/
Twitter | https://twitter.com/ryanholtz1
Snapchat | https://snapchat.com/add/ryanholtz1
LinkedIn | https://www.linkedin.com/in/rholtz
Facebook | https://www.facebook.com/TheRyanHoltzShowPodcast/