Podcast: Play in new window | Download | Embed
Subscribe: RSS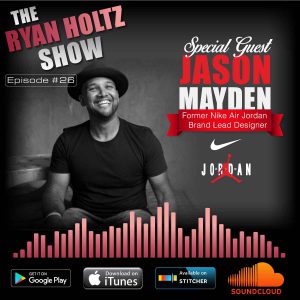 In this episode of The Ryan Holtz Show, I have the absolute pleasure of welcoming a special guest, Mr Heroic himself, Jason Mayden! Jason and I chat about Michael Jordan, ending poverty, providing hope, Chicago and how to not only live half of your god given self, but live the full self. This conversation impacted me, immensely. Please leave your comments below and let me know what you think!
In his previous role at Nike, Jason oversaw the design and execution of all conceptual products, data driven innovations and inline lifestyle and performance products for athletes and cultural icons such as Carmelo Anthony, Chris Paul, Russell Westbrook, Derek Jeter, and Michael Jordan.
In 2011, Mayden successfully received his Master's in General Management and Social Innovation from Stanford University's Graduate School of Business and shortly there after he returned to Nike as the Global Director of Innovation for Nike Digital Sport where he was responsible for the strategic investigation of new technologies and services such as the Nike Fuel Band. (Full Bio Available Upon Request, BUT I am sure you get the point.
I wanted to have Jason on the podcast after I watched one of his interviews he did on Impact Theory. Jason spoke poetically, acted articulate and then wrapped his street style with a dash of poise. I was hooked! Educated, motivated, and highly successful but still humble as pie. This is an interview that I worked hard to get for you as the nuggets of life, business and being heroic are sure to have massive impact on both your perspective, soul and mind. I have put together a few of the pull quotes and talking points below, but all the goodies are in the podcast, so make sure you have a listen!
Reach out to Jason and his team at Super Heroic here. You can also hit Jason up on Instagram here.
PULL QUOTES & SHOW NOTES
1. Growth Mindset Language Vs Fixed Mindset Language
2. Look at what is happening in Chicago through the eyes of prescriptive savagery.
3. You don't choose to be in a bad neighbourhood. Poverty is created.
4. My origin story is so powerful that a tragic event became so transformational because it taught me the importance of not only my life, but other people's lives.
5. "Being in the boardroom, wearing sneakers and a ball cap and being able to articulate with the smartest minds in the room."
6. "Unfortunately we have associated accomplishment with appearance and education."
7. If a person does not want to do business with me because I speak my truth, that is a person l should probably not be in contact with.
8. "When you play the role of half of who you are, you rob the world of this God-given gift that you can display because you care more about what another person thinks of you than you think of yourself. I don't expect love or to have anyone validate my existence because I have my wife, my kids and the god I pray to that tells me my life is just as important as anyone else's."
9. "I don't feel sorry for myself if something did not happen because I did not make it happen. I don't set any limit on myself."
10. "If you fight the fight itself, you start to exert too much energy meaning that the weight of the fight becomes to much."
11. What I do with the flow of the way I dress, is go with the stereotype. They assume that I don't know much, they assume that I don't have anything to contribute, and therefore by assuming, they automatically give me the upper hand in the conversation because I know everything about what their thinking and they know nothing about what I am thinking. They now have already started to give up on trying to figure me out. This is social camouflage, I can hide in plain sight. Because I dress this way, they expect the least of me. This tells me more about them before they even know my resume.
12. We try to fight and combat stereotypes don't! Let people expect less from you. Let people expect that your not gonna do something because you know why, when you do it and you do it well, you have figured out a way to be your full self on purpose in front of people that can encourage others. Think less of me because now I can maneuver without any friction because you are not worried about me. The moment I start to dress and model their behaviour, then they have to start worrying about me. Because they see me as a competitor.
13. What's better, the competitor you don't know you have or the competitor you know you have. They not gonna put up much of a fight if they do not see me as competition.
14. Positive psychology
15. I am very particular about words because words are things we carry in our soul.
16. I am born to be an intellectual sprinter
17. We stopped praising the application of knowledge and only praise the acquisition of knowledge.
18. We accept failure as a choice
19. We are at an advantage by going through tough circumstances because we can see what we need to get around.
20. Travel with your mind because that is the part you should never be impoverished because of.
21. People have a great way of placing their insecurities on you because they couldn't do it themselves, that's the ego. "That's where your limit is but maybe that's where I begin."
22. To have self-doubt is to worry about what people think about you. To have doubt is trying to perform for an audience that is not probably the audience you do not want to be impressing.
23. Why should I worry about the opinions of people, that is just as temporary as I am? That makes no sense.
24. How do I explain being misunderstood? It's called vision because people can see you.
25. It takes a very strategic amount of energy to have an ego and you have to keep that up.
26. The most exhausting part of creating a top-selling shoe is managing the process of weeding out what opinions matter.
27. "I wish I could be the quarterback and the receiver of my blessings. I am just the receiver, I just run my route."
**** CONNECT WITH ME ON SOCIAL MEDIA ****
Instagram | https://www.instagram.com/RyanHoltz1
Instagram | https://www.instagram.com/ryanholtzshowpodcast/
Twitter | https://twitter.com/ryanholtz1
Snapchat | https://snapchat.com/add/ryanholtz1
LinkedIn | https://www.linkedin.com/in/rholtz
Facebook | https://www.facebook.com/TheRyanHoltzShowPodcast/