Podcast: Play in new window | Download | Embed
Subscribe: RSS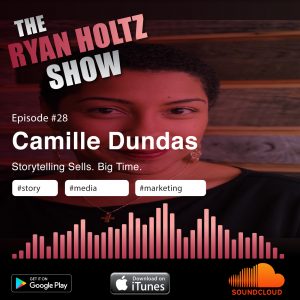 In this episode of The Ryan Holtz Show Podcast I chat how to turn your MESS into a messAGE and the art of storytelling and writing and pitching a great story. Camille Dundas is a social storyteller. She works for three different companies but they all tap into her storytelling skills on social media. 
Camille spent 10 years working as a television news producer for CBC and CTV. But most recently made a shift to Hootsuite, where she helps enterprise customers visualize their wildest social media dreams. 
Camille is also a consultant at 404 Media Group, where she helps clients understand how to pitch their businesses to mainstream media in a way that works and gets you noticed. 
And Camille is also the editor in chief of award winning online magazine ByBlacks.com, currently ranked #1 among online publications serving the Black Canadian community. 
Reach out to Camille here.
Shownotes & Tidbits:
1. Pitching your story and articulating the right story and truth
2. Turn your MESS into a message
3. How do you figure out what YOUR STORY IS and how to cultivate that
4. What is storytelling?
5. How do you get instant gratification
6. Being patient and playing the long game
7. Do not overwhelm people by a huge message
8. Break your story down into parts and phases
9. How she met and performed for Nelson Mandela at 16
Drop a comment below and tell us what you think!
**** CONNECT WITH ME ON SOCIAL MEDIA ****
Instagram | https://www.instagram.com/RyanHoltz1
Instagram | https://www.instagram.com/ryanholtzshowpodcast/
Twitter | https://twitter.com/ryanholtz1
Snapchat | https://snapchat.com/add/ryanholtz1
LinkedIn | https://www.linkedin.com/in/rholtz
Facebook | https://www.facebook.com/TheRyanHoltzShowPodcast/