Podcast: Play in new window | Download | Embed
Subscribe: RSS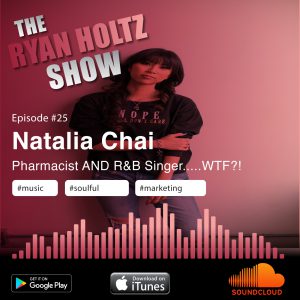 In this episode of The Ryan Holtz Show Podcast, I have the absolute pleasure of sitting down with local Edmonton Pharmacist and R & B Singer, Natalia Chai! Yes, I said R&B Singer AND Pharmacist. I really wanted to have Natalia on the show as I connected with her via Instagram through a mutual online friend, shout out to Danika for connecting us!
Being asian and influenced by the cultural expectations and parental pressures really makes Natalia a stand out and unique as she is showing the courage and passion to do it "her way". For that I think many people in the world especially whom have immigrated over from other countries know exactly what Natalia is saying and feeling. Most families view education as the life line to success and often make education their ultimate currency. For creatives like Natalia, this def would be considered going against the grain!!
I don't want to blab my mouth here as all the beautiful nuggets are in the podcast, but check out a few of our main talking points below:
a) How to be a full time pharmacist manager and a full time musician? What are the challenges? How do I manage two busy schedules?
b) What drew me to a music genre that is rare in the Chinese community?
c) Story behind my Connections EP and my new LP album coming out spring of 2018.
d) What I aim to do through my music – tackling issues such as mental health, empowering young women, emphasizing tolerance and acceptance in our world, to spread love and to be a fundamentally nice human being.
e) The challenges being a solo, independent artist in the music scene – age? Being female? Asian?
f) The "Asian Mind Set", perseverance, kick-butt work ethic but knowing when it's time to take a break – Lessons learned from one of the strongest woman I know – My mother!
A few more to add are the history of hip hop culture, struggling with following your passion and dream but giving up the security of having a job. Which in my opinion, security is a huge "perception" term which is often up for debate and is perhaps anything but.
Just imagine being on your deathbed and saying the words "security". We all owe a death and that is the ultimate truth! Just some food for thought.
Reach out to Natalia on Instagram here.
**** CONNECT WITH ME ON SOCIAL MEDIA ****
Instagram | https://www.instagram.com/RyanHoltz1
Instagram | https://www.instagram.com/ryanholtzshowpodcast/
Twitter | https://twitter.com/ryanholtz1
Snapchat | https://snapchat.com/add/ryanholtz1
LinkedIn | https://www.linkedin.com/in/rholtz
Facebook | https://www.facebook.com/TheRyanHoltzShowPodcast/