Podcast: Play in new window | Download | Embed
Subscribe: RSS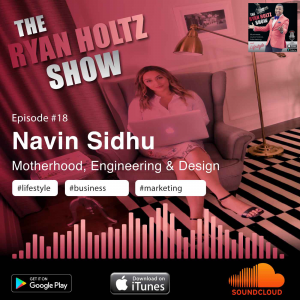 In this episode of The Ryan Holtz Show Podcast, special guest Navin Sidhu of Fab Hab Interiors Inc drops by to chat all things interior design, motherhood, entrepreneurship and growing up with a big work ethic. I really wanted to have Navin on because she is different. Just different. Being a female who carved out her own path amidst all the perceived obstacles in her way sets this podcast up to provide immense value to people out there who are at a job feeling that there is no way out and no options.
We also talk about hipsters aka fake hipsters who proclaim one thing but might not be as authentic as they seem. In short, this podcast is a complete knowledge bomb! If you need a extra pump of motivation, inspiration and actionable steps to get you on your way to achieving your goals, this is the episode for you!
Show talking points:
1. Journey into Navin's transition from engineer to business owner
2. How being a female has shaped her career choices, from engineering to interior design, to being a mother and entrepreneur
3. What defines her design aesthetic and her guiding principle/ vision statement
4. How engineering and having that background has shaped her work in interior design
5. Some people may not understand the difference between design and art, is there a difference? And why?
6. What is the biggest challenge in making a career change? Biggest challenge in the Interior Design world?
7. What advice or keys to success, Navin can offer
8. Why is design important to her
9. What is one thing that propelled you forward, the turning point. What can you tell people that feel safe at their job?
As always, please rate the podcast on iTunes, Google Play or Stitcher! I really appreciate you listening!