Podcast: Play in new window | Download | Embed
Subscribe: RSS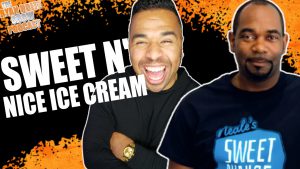 A true black-owned Candian success story. Imagine going from the beautiful waters of Trinidad all the way to Loblaws store shelves. Let me introduce you to Sweet N'Nice Ice Cream. Andrew McBarnett which is one of the owners of this amazing Canadian ice cream brand joins me to chat about the origins of this wonderful ice cream that was started by his grandfather Charles back in the 1940s. We chat about how you can take your food brand and make it so appealing that the large retail grocery stores will give you a shot at the almighty shelf space. This business is not for the faint of heart, but so worth it! Sit back, grab some ice cream and listen to a wonderful Canadian black business story. There is truly something in this episode for everyone!
About Sweet N' Nice Ice Cream
Neale's Sweet N Nice ice cream, a brand that originated in 1940s Trinidad and Tobago, restarted in Canada with just two flavors; Mango and Coconut and fully relaunched in 2017. It was through the passion of bringing our Granddad's ice cream flavors back to life, and creating a family legacy, that this remarkable product was reborn.
After months of painstakingly taking the original home-made recipe through industrial trials and also working with the University of Guelph, Sweet N Nice launched in the Toronto market to about 20 stores
Following the initial launch, the founding family Team Developed and launched new flavors; Rum and Raisin (to popular demand) and Guava Passion Fruit and have now expanded to more chains such as Sobeys, Freshco, Foodland.
Two of the founding team, first cousins and grand-children of Charles Alfred Neale, appeared on CBC's Dragons' Den show on the 11th February 2015 on the Family Day episode, introducing to the Dragons and all of Canada the Sweet N Nice Ice Cream family story.
Check out Sweet N' Nice on Instagram.
Subscribe to our email list here.
Enjoyed this episode? Please leave a Review on iTunes here.
Want to get more exposure and put your business in front of the right audience? Inquire to see how you can advertise your company on the show here.
Watch our full video podcasts on YouTube here. Please also subscribe and click that bell to get notified!
→→→ CONNECT WITH ME ON SOCIAL MEDIA:  ←←←
▶︎ INSTAGRAM | https://www.instagram.com/RyanHoltz1
▶︎ YOUTUBE | https://www.youtube.com/ryanholtz
▶︎ TWITTER | https://twitter.com/ryanholtz1
▶︎ SNAPCHAT | https://snapchat.com/add/ryanholtz1
▶︎ LINKEDIN | https://www.linkedin.com/in/rholtz
▶︎ FACEBOOK | https://www.facebook.com/RyanPHoltz/
▶︎ ITUNES | https://itunes.apple.com/ca/podcast/the-ryan-holtz-show/id1167195878?mt=2
▶︎ WEBSITE | https://ryanholtz.ca/
▶︎ SPOTIFY | https://open.spotify.com/show/2rLdYsJKw5Vb6yoMoV2jhw?si=uxDfBei9SOWbLRcTU50T0Q