Podcast: Play in new window | Download | Embed
Subscribe: RSS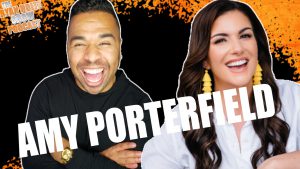 The queen of online courses, Amy Porterfield dropped by the show to chat about what motivated her to help women sitting in a cubicle realize their voice and expertise matter, but also that they can generate an income and living from their corporate experience! Amy and I also chat about some of her comments that got misplaced and misunderstood around the Black Lives Matter and George Floyd situation. Amy speaks from the heart about why diversity and inclusion matter and the steps she is taking in her own business to empower and champion people from all walks of life to become their full selves on purpose! I enjoyed having Amy on the show and we talked about what actually gets her up each day and how we can both use our talents and empathy to impact the world in a positive way!
Show Notes:
00:35 – Intro of Amy
02:35 – Amy Porterfield explains why the pandemic is the perfect time to take the leap
04:35 – Why your voice truly matters  & how Amy Porterfield found hers
06:30 – Why it is ok to feel doubt, but why it is not ok to do nothing about it
08:30 – Amy Porterfield's thoughts on ClubHouse and how you can leverage it for your business
11:35 – Amy Porterfield gives props to the Ryan Holtz Show Podcast
13:50 – ClubHouse Roasting with Amy's Husband and Ryan's Wife
16:00 – Amy's Instagram in 2014 and her Brand Refinement
17:20 – Amy had a hard time showing her personal life, has to be mindful as her audience wants that
18:15 – How does  Ryan try to extract the best out of Amy
19:11 – How Amy trains herself to be vulnerable and how she speaks to the women in the cubicle
19:41 – Why showing up to polished can disconnect you from your audience
21:00 – Amy's eyebrows ( And Why Ryan Should have Nicole Walters on the RHS Podcast)
22:25 – How to find YOUR audience and ideal client…How to truly find your tribe
25:00 – Why Joe Rogan is a unicorn
26:15 – Why you should never chase unicorns and figure out your lane awesome
26:47 – Amy is NOT passionate about digital courses, but she is happy why the digital courses work
28:30 – Lack of BLACK hosted podcasts
29:00 – Our show's whole goal
31:40 – Amy talks about her mistake on the George Floyd issue
32:45 – Why being  a beacon of hope is needed
33:20 – Amy Porterfield addresses the lack of diverse people on her podcast and audience
35:30 – Why victimizing and generalizing is terrible
37:33 – Why there are so many opportunities for diverse podcast hosts and content creators
38:00 – Amy's crusade to shine a light on diversity and the opportunity in the course creation sector
40:30 – Why Amy Porterfield lost customers when she stepped up and spoke out
42:50 – Amy Porterfield gives me a compliment on my interview skills and why I should create a course on this
43:50 – Why Amy Porterfield thinks not preparing questions is lazy but has now changed her opinion
45:00 – Ryan's tactics on creating a podcast course
47:00 – Closing remarks
Enjoyed this episode? Please leave a Review on iTunes here.
Want to get more exposure and put your business in front of the right audience? Inquire to see how you can advertise your company on the show here.
Watch our full video podcasts on YouTube here. Please also subscribe and click that bell to get notified!
Who is Amy Porterfield?
Amy Porterfield is an online marketing expert and the host of the top-ranked podcast, Online Marketing Made Easy. Before building a multi-million dollar digital course business, Amy worked with Peak Performance Coach, Tony Robbins, where she oversaw the content team and collaborated on ground-breaking online marketing campaigns. Through her bestselling courses and popular podcast, Amy's action-by-action approach proves that even the newest online entrepreneurs can bypass the overwhelm, and instead generate exciting momentum as they build a business they love.
Check out Amy and all of her great resources and podcast here.
→→→ CONNECT WITH ME ON SOCIAL MEDIA:  ←←←
▶︎ INSTAGRAM | https://www.instagram.com/RyanHoltz1
▶︎ YOUTUBE | https://www.youtube.com/ryanholtz
▶︎ TWITTER | https://twitter.com/ryanholtz1
▶︎ SNAPCHAT | https://snapchat.com/add/ryanholtz1
▶︎ LINKEDIN | https://www.linkedin.com/in/rholtz
▶︎ FACEBOOK | https://www.facebook.com/RyanPHoltz/
▶︎ ITUNES | https://itunes.apple.com/ca/podcast/the-ryan-holtz-show/id1167195878?mt=2
▶︎ WEBSITE | https://ryanholtz.ca/
▶︎ SPOTIFY | https://open.spotify.com/show/2rLdYsJKw5Vb6yoMoV2jhw?si=uxDfBei9SOWbLRcTU50T0Q