Podcast: Play in new window | Download | Embed
Subscribe: RSS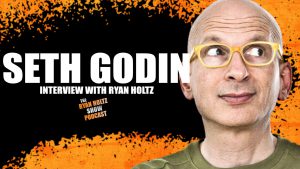 A great honour for me to have Seth Godin aka The Godfather of Marketing as a guest on the show. Seth has served as a major source of wisdom, inspiration, and strategy in my career as a marketer. As Seth says: "Marketing is making things better by making better things" and that is the mantra I have adopted into my work for clients at Ryan Holtz Marketing for years. Seth and I had a wonderful conversation that went from his early days getting rejected all the way to how he has become a 19 book best selling author. I hope you enjoy this episode and please share it with your friends and family! Much love, #TeamHoltz
Reach out to Seth and check out his new book "The Practice", here.
Seth Godin's Bio
Seth is an entrepreneur, best-selling author, and speaker. In addition to launching one of the most popular blogs in the world, he has written 19 best-selling books, including The Dip, Linchpin, Purple Cow, Tribes, and What To Do When It's Your Turn (And It's Always Your Turn). His most recent book, This is Marketing, was an instant bestseller in countries around the world.
Though renowned for his writing and speaking, Seth also founded two companies, Squidoo and Yoyodyne (acquired by Yahoo!).
By focusing on everything from effective marketing and leadership, to the spread of ideas and changing everything, Seth has been able to motivate and inspire countless people around the world.
In 2013, Seth was one of just three professionals inducted into the Direct Marketing Hall of Fame. In an astonishing turn of events, in May 2018, he was inducted into the Marketing Hall of Fame as well. He might be the only person in both.
Show Notes:
02:30 – Seth's Inspiration behind his blog
03:30 – Inspiration is a learned behavior
04:30 – Ryan welcomes Seth to the show
05:30 – Seth responds to his own emails and has ZERO staff
06:00 – Seth does not watch tv or do most social media
06:30 – Why Seth hates being hustled
07:19 – Seth's TED Talk on clarinet and assembling the clarinet
08:00 – Why Seth suggests doing one thing worth listening too
09:00 – Seth goes against the culture
10:00 – Why Ryan loves Seth
10:25 – How Seth overcame 800 rejection letters and how he uses CBT (Cognitive behavioral therapy)
11:30 – Seth does not think cold calling works
12:30 – How Seth processed the NO's as NOT RIGHT NOW
13:25 – How Seth gives without the expectation
14:00 – Seth's new book called the Practice
14:35 – Why Seth feels you cannot say you suck at something until you put thousands of hours into a craft
15:25 – Having a job that gives you FREEDom ultimately allowing you to solve interesting problems
16:25 – Seth's new book is motivated by getting people to feel emotional about shipping great work
18:00 Why Seth Godin roasts interviewers and keeps his personal side private
19:19 – Seth grew up North of Toronto
19:50 – Why Ego is a trap
20:45 – Seth's goal for people who read the book called "The Practice"
21:45 – Importance of developing a practice
22:10 – Why Seth never does marketing consulting for clients
23:10 – Multiple types of marketing and how to get a career in the industry
24:00 – Marketing is making things better by making better things
25:00 – Seth Godin's prediction for the future of the podcast
25:48 – Don't start a podcast until you get to episode 100
26:30 – How to get guests on your podcast and how to work the ladder
27:30 – Why Seth feels having a podcast with guests is easier for the podcast host
28:10 – Why Seth likes The Ryan Holtz Show
28:40 – How Seth knows whether a podcast host is showing up with generosity
29:50 – The purpose of the podcast is to earn trust and get leverage, not make money
30:00 – Power of podcasting and the medium to use your voice
32:10 – Seth pokes fun at Ryan for COVID19 statement
33:40 – Why Seth Godin is a great podcast guest
34:45 – Why Ryan loves to sink or swim
35:09 – Seth Godin chats about Virgin founder, Richard Branson and some other celebrities
37:08 – Importance of doing your homework
37:30 – Seth Godin's thoughts about COVID-19 ( Seth said for the first time in his life, he witnesses people realizing they are all going to die at the same time )
40:15 – Last question for Seth
40:49 – Closing remarks and how to reach out to Seth
Want to Donate or support the production of the Ryan Holtz Show Podcast?
Become a patron
PayPal Donation
Enjoyed this episode? Please leave a Review on iTunes here.
Want to get more exposure and put your business in front of the right audience? Inquire to see how you can advertise your company on the show here.
Watch our full video podcasts on YouTube here. Please also subscribe and click that bell to get notified!
→→→ CONNECT WITH ME ON SOCIAL MEDIA:  ←←←
▶︎ INSTAGRAM | https://www.instagram.com/RyanHoltz1
▶︎ YOUTUBE | https://www.youtube.com/ryanholtz
▶︎ TWITTER | https://twitter.com/ryanholtz1
▶︎ SNAPCHAT | https://snapchat.com/add/ryanholtz1
▶︎ LINKEDIN | https://www.linkedin.com/in/rholtz
▶︎ FACEBOOK | https://www.facebook.com/RyanPHoltz/
▶︎ ITUNES | https://itunes.apple.com/ca/podcast/the-ryan-holtz-show/id1167195878?mt=2
▶︎ WEBSITE | https://ryanholtz.ca/
▶︎ SPOTIFY | https://open.spotify.com/show/2rLdYsJKw5Vb6yoMoV2jhw?si=uxDfBei9SOWbLRcTU50T0Q