Podcast: Play in new window | Download | Embed
Subscribe: RSS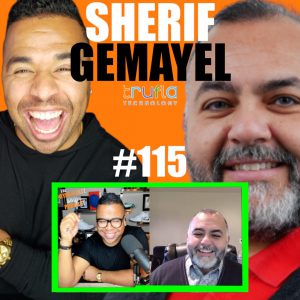 Happy to have Sherif from Trufla Technology partner with the show to become a sponsor. Sherif is someone who has a plethora of knowledge to pull from when it comes to creating a company and a great work culture from scratch. For this reason, I know that the audience will get a ton of valuable and ACTIONABLE knowledge over the next few episodes that Sherif drops by for! In this episode, we journey through Sherif's early struggles in business and try and paint some context to how he got to where he is today. I know you will enjoy it!
Episode sponsored by: Trufla Technology
Sherif's Bio:
Sherif Gemayel is an entrepreneur who is passionate about disrupting the traditional ways of doing insurance. As the president of Sharp Insurance and the CEO of Trufla Technology, Sherif uses tech trends from other industries to navigate through the relatively unchartered territory of digital in the insurance brokerage sphere. This has led him to build one of the most innovative brokerages in Canada and inspired the creation of Trufla to help amplify brokers through a digital transformation including innovative software and digital marketing. Sherif is the recipient of Avenue Calgary's top 40 under 40 award, Calgary Leaders in Business Award, and a finalist for the EY Entrepreneur of the year.
Enjoyed this episode? Please leave a Review on iTunes here.
Want to Donate or support the production of the Ryan Holtz Show Podcast?
Become a patron
PayPal Donation
Want to Donate or support the production of the Ryan Holtz Show Podcast?
Patreon: https://www.patreon.com/theryanholtzshow
PayPal: http://paypal.me/TeamHoltz
Want to get more exposure and put your business in front of the right audience? Inquire to see how you can advertise your company on the show here.
Watch our full video podcasts on YouTube here. Please also subscribe and click that bell to get notified!
→→→ CONNECT WITH ME ON SOCIAL MEDIA:  ←←←
▶︎ INSTAGRAM | https://www.instagram.com/RyanHoltz1
▶︎ YOUTUBE | https://www.youtube.com/ryanholtz
▶︎ TWITTER | https://twitter.com/ryanholtz1
▶︎ SNAPCHAT | https://snapchat.com/add/ryanholtz1
▶︎ LINKEDIN | https://www.linkedin.com/in/rholtz
▶︎ FACEBOOK | https://www.facebook.com/RyanPHoltz/
▶︎ ITUNES | https://itunes.apple.com/ca/podcast/the-ryan-holtz-show/id1167195878?mt=2
▶︎ WEBSITE | https://ryanholtz.ca/
▶︎ SPOTIFY | https://open.spotify.com/show/2rLdYsJKw5Vb6yoMoV2jhw?si=uxDfBei9SOWbLRcTU50T0Q