Podcast: Play in new window | Download | Embed
Subscribe: RSS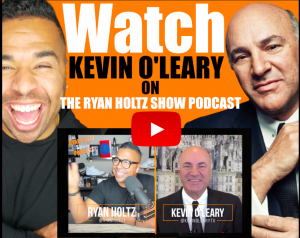 MR Wonderful aka The Shark Kevin O'Leary himself stopped by the show to chat about so many great timely and valuable topics! I have always been a huge admirer of Kevin and his work. The attribute I love most about him is his no BS attitude. We need that in this world! We talked about his investing app Beanstox, Shark Tank, and the importance of ownership in the black community, but also every underserved community. We also chatted about some of Kevin's more personal side and what really got him to the massive success that he is today. I worked my butt off to get him on to give YOU, the #TeamHoltz squad as many nuggets to be successful!
Here is what we chatted about:
7:30 – a royalty deal and licensing deal from the girl Kevin liked from the ice cream store
8:14 – You cannot make new old friends….the equity you build in friendships should be treasured.
9:00 – Why money likes to be seduced, greed for money will not be successful. You want to be free.
10:47 – you should talk about money on the 3rd date…..financial infidelity is a huge cause of divorce
12:30 – when you cheat, you lose 50% of the equity of the relationship when you do not come clean
13:40 – Ryan thanks Mr. Wonderful for his time
14:20 – Cultural currency
15:30 – Black men and women not getting the same opportunities in business
18:16 – Ask Mr. Wonderful segment on Kevin's YouTube Channel
20:30 – Customer cost of acquisition…….social media lowers the cost gigantically!
22:30 – Kevin O'Leary's favorite social platform (LinkedIn)…loves the blends of arts and science
24:00 – employees in the late '20s and '30s have 2 weeks worth of cash in their bank account
24:40 – Kevin's Beanstox app and how it will help increase financial literacy
25:40 – Stop buying crap and save for yourself
27:30 – How Steve Jobs influenced Kevin O'Leary's wardrobe to wear the same outfit
29:30 – which shark would Kevin O'Leary be least likely to lend money too
31:20 – Why Kevin likes someone being shit on!
32:00 – Business is binary, it makes money or it does not
34:30 – Kevin O'Leary's best opportunities that have risen from COVID-19
37:40 – Kevin's thoughts on the importance of storytelling in business, why artists are making money
39:15 – Why content is a form of currency
40:00 – Kevin's first job is filming and editing…he started out as a storyteller
41:37 – Kevin O'Leary's daughter got her editing chops from her Dad
43:00 – Importance to have a yin and yang
44:15 – Which phone is Kevin O'Leary's fave phone? iPhone Or Android?
46:00 – Ask Mr Wonderful answers Ryan Holtz Show Podcast Listener Questions
49:00 – How to pitch and get Kevin O'Leary's attention and solve his problems
51:10 – Why black entrepreneurs are getting only a sliver of the venture capital pie
53:00 – Why Crowd Funding can solve any VC problem (StartEngine.com)
54:20 – Why Kevin says your most valuable asset is your time
55:00 – Kevin's closing remarks, a compliment to Ryan Holtz and why he blames everything on Nancy Cheung
Enjoyed this episode? Please leave a Review on iTunes here.
Want to get more exposure and put your business in front of the right audience? Inquire to see how you can advertise your company on the show here.
Watch our full video podcasts on YouTube here. Please also subscribe and click that bell to get notified!
Subscribe to Kevin's YouTube Channel here.
Reach out to Kevin here.
→→→ CONNECT WITH ME ON SOCIAL MEDIA:  ←←←
▶︎ INSTAGRAM | https://www.instagram.com/RyanHoltz1
▶︎ YOUTUBE | https://www.youtube.com/ryanholtz
▶︎ TWITTER | https://twitter.com/ryanholtz1
▶︎ SNAPCHAT | https://snapchat.com/add/ryanholtz1
▶︎ LINKEDIN | https://www.linkedin.com/in/rholtz
▶︎ FACEBOOK | https://www.facebook.com/RyanPHoltz/
▶︎ ITUNES | https://itunes.apple.com/ca/podcast/the-ryan-holtz-show/id1167195878?mt=2
▶︎ WEBSITE | https://ryanholtz.ca/
▶︎ SPOTIFY | https://open.spotify.com/show/2rLdYsJKw5Vb6yoMoV2jhw?si=uxDfBei9SOWbLRcTU50T0Q