Podcast: Play in new window | Download | Embed
Subscribe: RSS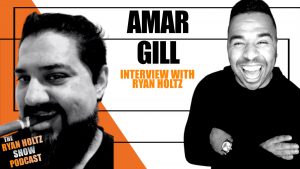 If any of us mentioned an idea of walking around with masks on our faces and 2 meters apart, we would of been called crazy! Insert COVID-19 and the butt-kicking it gave us all both personally and professionally. We would of never been able to predict a pandemic of this magnitude in the modern-day century, literally!
Well, we have a treat for you. Chartered Accountant Amar Gill joins us to help educate you on how CERB (Canadian Emergency Response Benefit) will impact the Canadian economy as a whole. But there is a silver lining. Amar gives us some small tips and tricks to help lessen the financial blow and catch up quicker. You may think it is a huge thing, but no! Just your everyday small expenses that you need to hunker down on!
On behalf of myself and the #TeamHoltz squad, I hope this interview helps and gives you value in order to help you and your family live well and live good.
Enjoy the episode!!
Join Our Facebook Community!
Facebook Group | https://www.facebook.com/groups/2051291358485834/
Enjoyed this episode? Please leave a Review on iTunes here.
Want to get more exposure and put your business in front of the right audience? Inquire to see how you can advertise your company on the show here.
Watch our full video podcasts on YouTube here. Please also subscribe and click that bell to get notified!
Amar's BIO & Socials
Amar Gill (ag2) is a Chartered Accountant and Specialized Business Advisor with over 15 years of experience both at the national and international levels. He provides consulting and advisory services for small to medium-sized businesses in Finance, Operations, and Capital Investment.
He is also the host of the Do Bad Things To Do Good podcast which specializes in real-life stories that highlight just how much stranger the truth is from fiction "
Insta: agill2103
Twitter: ag_twice
email: amargillca@gmail.com
Episode Sponsored By Amar Gill
→→→ CONNECT WITH ME ON SOCIAL MEDIA: ←←←
▶︎ INSTAGRAM | https://www.instagram.com/RyanHoltz1
▶︎ YOUTUBE | https://www.youtube.com/ryanholtz
▶︎ TWITTER | https://twitter.com/ryanholtz1
▶︎ SNAPCHAT | https://snapchat.com/add/ryanholtz1
▶︎ LINKEDIN | https://www.linkedin.com/in/rholtz
▶︎ FACEBOOK | https://www.facebook.com/RyanPHoltz/
▶︎ ITUNES | https://itunes.apple.com/ca/podcast/the-ryan-holtz-show/id1167195878?mt=2
▶︎ WEBSITE | https://ryanholtz.ca/
▶︎ SPOTIFY | https://open.spotify.com/show/2rLdYsJKw5Vb6yoMoV2jhw?si=uxDfBei9SOWbLRcTU50T0Q