Podcast: Play in new window | Download | Embed
Subscribe: RSS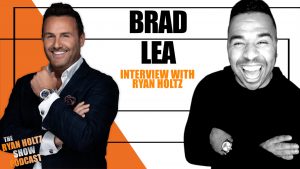 BRAD LEA drops by the show to drop some huge sales bombs! But seriously, I wanted to have Brad on as he is the true master of sales. If you want to learn how to sell whether it be yourself, a prospect or anything. Brad is the king of sales. We chat with Brad about his journey from being self-absorbed and consumed all the way to serving people through selling aka HELPING people. I learned a ton from this interview and I know you will too! Enjoy!
Want to Donate or support the production of the Ryan Holtz Show Podcast?
Become a patron
PayPal Donation
Enjoyed this episode? Please leave a Review on iTunes here.
Want to get more exposure and put your business in front of the right audience? Inquire to see how you can advertise your company on the show here.
Watch our full video podcasts on YouTube here. Please also subscribe and click that bell to get notified!
Show notes:
5:40 importance of documenting vs creating content
8:20 most people don't believe in themselves
9:16 Brad Leas sacred six
12:00 importance of blocking out the hater and visualization
16:06 apologize and forgive yourself
18:30 Brad's ultimate goal
22:20 brad lea comments on how Ryan got him on the show
26:35 Brad leas one thing he would change about himself
27:50 polite vs being real
32:05 being real doesn't mean you don't care
36:15 People can change
37:20 brad Lea change from selfish to the servant
38:25 is fear ego-based?
39:40 fear of judgment is why people don't achieve a lot
39:55 fear of rejection is caused by lack of self-love
40:10 your ego is not your amigo
41:15 how do you separate from yourself (ego)
41:40 the most egotistical people are the most insecure (mo ego mo insecurity)
42:18 the more hands you shake the more money you make
44:10 Jordan belfort sales theory (numbers game)
45:30 don't anticipate negativity (m.jordan I don't worry about a shot I haven't taken yet)
47:40 how to close anybody with a hypothetical
49:10 hypothetical is the magic dust
50:30 first step to a sales process
51:50 be the expert not the salespeople. Elevate yourself into the expert role. ( tell them what they should think about).
52:18 don't hope…help
53:30 only job you have in sales is to build a relationship and see if you can help them
55:30 – the level of credibility
59:40 – how do you define your time
1:02:00 – PBD's hair problems
1:02:50 – do you and do not care what people think
1:04:57 – biggest superpower is Brad does not care about what anybody thinks
Brad Lea's Bio:
Brad Lea is a leading authority on web-based training. Experienced and proven in sales and marketing, he is a seasoned professional with a strong base of sales management coming from 25 years in the Automotive Industry.
Brad's thought leadership has been instrumental in helping guide some of today's most effective and productive sales professionals worldwide. Brad is also the author of the Real Deal Lease Presentation.
Engaging, authentic, and dynamic, Brad is passionate about helping companies discover and develop additional recurring revenue models and improving existing systems and processes.
As the Founder and CEO of LightSpeed VT, Brad has revolutionized the online training world. He has set the gold standard for how training is delivered, tracked, and reported on ensuring maximum performance, accountability, retention, and results.
→→→ CONNECT WITH ME ON SOCIAL MEDIA: ←←←
▶︎ INSTAGRAM | https://www.instagram.com/RyanHoltz1
▶︎ YOUTUBE | https://www.youtube.com/ryanholtz
▶︎ TWITTER | https://twitter.com/ryanholtz1
▶︎ SNAPCHAT | https://snapchat.com/add/ryanholtz1
▶︎ LINKEDIN | https://www.linkedin.com/in/rholtz
▶︎ FACEBOOK | https://www.facebook.com/RyanPHoltz/
▶︎ ITUNES | https://itunes.apple.com/ca/podcast/the-ryan-holtz-show/id1167195878?mt=2
▶︎ WEBSITE | https://ryanholtz.ca/
▶︎ SPOTIFY | https://open.spotify.com/show/2rLdYsJKw5Vb6yoMoV2jhw?si=uxDfBei9SOWbLRcTU50T0Q