Podcast: Play in new window | Download | Embed
Subscribe: RSS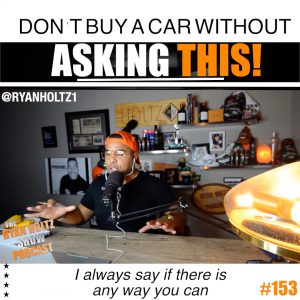 You are hoping that as you research the vehicle you want to buy, that you get a good deal and also an even better experience! I get it! This week's episode is from one o four listeners May from Montreal. She sent an email asking for more #CarBuying practical information! Great suggestion Mary! Now, let's get to it!
Often the car buying journey starts online in the comfort of our own home in front of the computer. We look at pictures, videos and read reviews from people who have either purchased the same vehicle or are thinking about it. See, in the automotive industry, this is known as "discovery" which means you are simply trying to figure out the type of vehicle that you would like to purchase. Dealers are also trying to equip themselves with the digital footprint you are taking with the help of companies like Google and Facebook to name a few. The auto dealers in the united states and Canada that want to be at the top of their game are truly doing their homework on YOU, the car buyer. So, it is important that you do your homework and that the car dealers do their's to ensure that you have the optimal car buying experience!
In this episode, you will learn the one question to ask to signal to the dealer that you mean business! I am excited for your car buying experience as this is the second largest purchase you will make in your lifetime! And as my way of celebrating you, I want to offer you my car buying checklist to help ensure you make your odds favorable. Simply, Text Me the words "car buyer" to +1 (587) 875-0634
Happy listening!
Text Me
 so we can be more than just internet friends!
Join our mailing list to get great content and win cool stuff by clicking 
here
.
Enjoyed this episode? Please leave a review on iTunes
here
.
Want to get more exposure and put your business in front of the right audience? Inquire to see how you can advertise your company on the show, click 
here
.
Watch our full video podcasts on YouTube
here
. Please also subscribe and click that bell to get notified!
→→→ CONNECT WITH ME ON SOCIAL MEDIA:  ←←←