Podcast: Play in new window | Download | Embed
Subscribe: RSS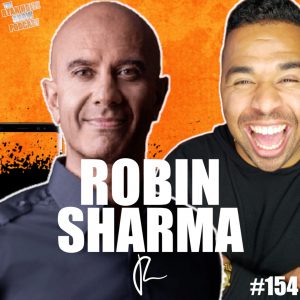 April 29, 2019, I decided to message Robin Sharma and invite him to come to serve you on my podcast. He politely said, "not right now". About a year later, I messaged him again. The answer: "not right now". A year later, "Ryan, let's set something up, here is my assistant's info." I bring this up because when you want something in life, I mean truly want it…..you have to DEMAND it! I really wanted to have a conversation with someone I call a trailblazer, world leader, thought leader, and humanitarian.
<iframe width="560″ height="315″ src="https://www.youtube.com/embed/wWZj-bgryv4″ title="YouTube video player" frameborder="0″ allow="accelerometer; autoplay; clipboard-write; encrypted-media; gyroscope; picture-in-picture" allowfullscreen></iframe>
Well, the time has come! This conversation provokes the inner voice of doubt that so desperately wants to be overcome by your voice of genius. This conversation also provokes the fear of rejection inside you that holds you back from experiencing some of life's true riches and joys. This conversation challenges you to step into your discomfort know that it is growth in wolf's clothing. This conversation helps you UPGRADE your life personally and professionally! Enjoy and please share this with a friend. It would mean the world to me!
Oh, and please buy yourself this gift called The Everyday Hero Manifesto, 
here
.
Text Me
 so we can be more than just internet friends!
Join our mailing list to get great content and win cool stuff by clicking 
here
.
Enjoyed this episode? Please leave a review on iTunes
here
.
Want to get more exposure and put your business in front of the right audience? Inquire to see how you can advertise your company on the show, click 
here
.
Watch our full video podcasts on YouTube
here
. Please also subscribe and click that bell to get notified!
Show Notes:
01:00 – Robin Sharma Intro
02:00 – Expect the ungrateful reference to chapter 30 of Everyday Hero
03:25 – Casual, intimate, and green room of your relationships
04:15 – Joy is the GPS, only doing work that fuels your joy
04:45 – If you have 3 great friends, you are fortunate
05:00 – Joy is the only metric that matters in life
05:56 – Pg 28, clarity breeds mastery
06:15 – Pressures of old school and culture
06:49 – Should we pick? Is it and/or? How do we pick? (Intelligent question)
07:55 – what makes mastery is to politely and consistently say NO
09:25 – Old part of you must experience a crucifixion so the new you can experience a resurrection
10:00 – growth coming to get you in wolf's clothing
11:25 – how do we teach leadership to our children from an early age
11:49 – born into genius and resigned into mediocrity
12:15 – honor your pirate freakish nature, that is where your nature is
13:14 – world starts programming you into mediocrity
14:16 – a question I have never been asked ( how does it feel to have people hold your soul in their hands)
16:24 – "I am no guru, I am very much human"
17:19 – that which is most personal, is almost universal
18:01 – we all wear social masks
18:12 – everyone seems normal until you get to know them
19:30 – not just mindset, 4 interior empires you need to study
20:36 – how do you balance being a dad with being a worldly figure
21:20 – your business and family are nothing more than having conversations
22:50 – soulful currency account, calibrating success and happiness
23:47 – weekly design system methodology worksheet in everyday hero manifesto
24:18 – success without soulfulness is a very empty victory
27:00 – how do we stay calm and not react in everyday ANNOYING situations like Robin Sharma? (INTELLIGENT QUESTION) (DIFFERENCE BETWEEN BEING KIND AND WEAK) (PICK YOUR BATTLES)
28:50 – If it is hysterical, it is historical (Road rage example)
30:05 – before you seek revenge, it is best to dig two graves
30:10 – Ryan calls Robin Sharma a gracious beast
31:40 – REJECTION, how to deal with it and why YOU ARE MISSING OUT ON LIFE
33:35 – CONNOR MCGREGOR REJECTION Story
35:20 – discomfort is growth in wolf's clothing (MUST LISTEN)
37:16 – legends go to the places that terrify them and confront it
38:01 – world-class comes from doing difficult things (Start the difficult business that people don't want to do!)
40:00 – what makes someone happy or miserable after retirement
41:00 – Robins father's mantra
41:50 – Trauma is a teacher
43:00 – Nelson Mandela story ( Humble Servant )
43:36 – The tongues of prosperity
44:00 – LIVE while you are ALIVE!
44:12 – Building BRAND & Why your phone is costing you your fortune ( GREAT QUESTION )
45:38 – The importance of scheduling and naming your days
47:25 – Ryan Asks Robin what he can do for him?
→→→ CONNECT WITH ME ON SOCIAL MEDIA:  ←←←