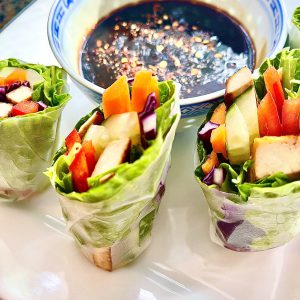 Summer is finally here! You want to be ready for all BBQ invites and food festivities, right? Well, look no further. My Crispy Tofu Salad Rolls With A Spicy Hoisin Dipping Sauce will not only turn heads but satisfy many bellies. These yummy salad rolls can be created in advance and will only take you 20 minutes to prep. Not only are they a show stopper but they are good for you and 100 percent customizable, making these rolls the perfect summer meal. What are you waiting for you? Get rolling, dig in and ENJOY!
Crispy Tofu Salad Rolls With A Spicy Hoisin Dipping Sauce
Ingredients
1/2 cup   mint (rough chop)
1 cup    cilantro (rough chop)
1/2 cup  basil  (rough chop)
1  cup   parsley  (rough chop)
1  cup  carrots  (julienne)
1  cup red peppers (julienne)
1  cup cucumber (julienne)
1/2  cup green onion (sliced)
1/2  red cabbage ( sliced or shredded)
1  cup multicoloured lettuce
1  cup firm tofu ( sliced )
1  package rice papers
5  tbsp soya sauce
1  tbsp sriracha
Dipping Sauce
3 tbsp soya sauce
3 tbsp hoisin sauce
1 tbsp brown sugar
1 tbsp chilli flakes
splash of lime juice
Instructions
1.  Press tofu to remove extra moisture. Place a kitchen towel over the tofu and a heavy plate. 30-40 minutes.
2. Cut tofu into strips and marinate with soya sauce and sriracha. Over medium heat non-stick skillet cook each side of tofu (2-3 minutes) until crispy and brown.
3. Let tofu cool and set aside.
4. Prepare veggies.
5. Toss all dipping sauce ingredients into a bowl and mix.
6. Assemble spring rolls, and dip rice paper into cold water (shallow dish) for about 15 seconds. Rice Papers will soften as you work with it. Do not soak for too long as papers will easily fall apart.
7. Transfer rice papers to a cutting board or damp cloth. It may take a little practice so be patient and allow for a few failed attempts.
8. Layer all veggies, herbs and tofu on the rice paper.
9. Roll Away. Slice salad rolls in half for presentation and save the rest for a late-night snack!