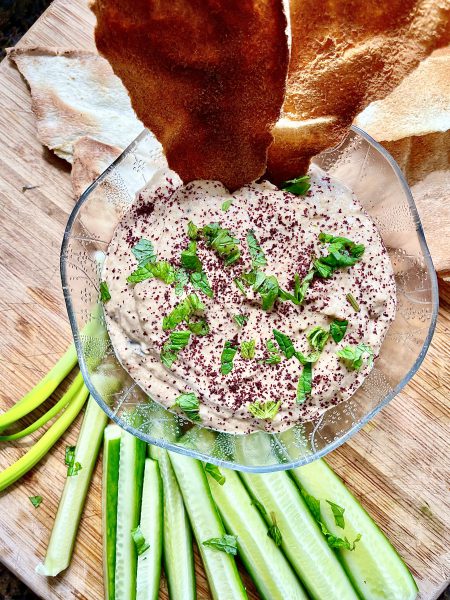 With all the flavours of the Mediterranian, my Roasted Eggplant Dip With Greek Yogurt and Sumac will be your favourite dip to bring to all the get-togethers this summer and right at home. The best part is that you and everyone else will be eating a very nutritious vegetable. Eggplants are high in fibre, vitamins, minerals and antioxidants. You can easily pair this yummy dip with all the favourites, pita chips, crunchy veggies, crackers and breadsticks. The choices are endless, so get creative and ENJOY!
Roasted Eggplant Dip With Greek Yogurt And Sumac
Ingredients
2  medium eggplants
1  tbsp each cumin, paprika
Dash  salt, pepper
2  tbsp greek yogurt
2  tbsp tahini
1/2  juice of a lemon
2  tbsp olive oil
2  garlic cloves
Mint to garnish
1  tbsp sumac
Instructions
1.  Pre-heat oven 375 C. Slice eggplants lengthwise in half and cut slices into eggplant for roasting. Evening coat spices and olive oil over slice marks of the eggplant. Roast eggplants for 45 minutes to 1 hour or until extremely soft.
2. Let eggplant cool. With a fork scoop out the flesh from the outer skin and toss it into a blender or food processor. Add garlic, any leftover spices, greek yogurt, lemon juice, tahini, salt and pepper. Blend until smooth.
3. Top dip with mint and sumac. Best to serve with crunch veggies and pita chips.
4. Dip in and ENJOY!!!!