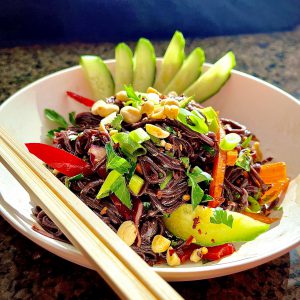 Soba, Japanese buckwheat noodles, could be perfect for you if your desiring a gluten-free and tasty cold salad. If Soba noodles are not for you, easy fix…try substituting with spaghetti or capellini pasta. Every bite will be highlighted with raw crunchy veggies and a spicy dressing. This dish can be prepared in advance or just minutes before devouring. Dig into your fridge, pull out all those amazing veggies you have been eager to use and toss them in. This salad can be easily enjoyed solo or best paired with grilled fish.
Believe me, you NEED this salad in your life! This salad will take you less than 20 minutes from start to finish. A healthy and tasty meal packed with fresh veggies. Prepared for work, dinner at home or a get-together, this dish is a winner!
Make it with LOVE & Enjoy!
Cold Soba Noodle Salad With A Spicy Dressing
Ingredients
8oz  soba noodles (1 package)
1/4  cup red cabbage (shredded)
1/2 cup green onions (chopped)
1 medium carrot (shredded)
1/2 cup cucumber (julienne)
1/2 cup red peppers (julienne)
1 cup mixed herbs ( cilantro, parsley, basil)
crushed peanuts (topping)
Dressing
1 tbsp  sriracha
1 tbsp  brown sugar
1 tbsp rice wine vinegar
1/2 lemon/ lime  juice
2 tbsp soya sauce
1 tbsp hoisin sauce
1 tbsp olive oil
1 clove garlic ( finely dice )
Instructions
Prep all veggies, finely dice garlic and pull out all ingredients for the spicy dressing.
In a medium-large saucepan bring water to a boil. Drop soba noodles in boiling water and move around the noodles so they don't stick (much like cooking pasta). Do NOT walk away from the noodles, they require 4-6 minutes of cooking time. Strain noodles in a colander and wash immediately with cold water, rinsing the starch of the noodles. Set aside.
Mix all dressing ingredients. You may substitute sriracha with chilli flakes, favourite hot sauce or none at all.
Toss all veggies in a big bowl over soba noodles and add dressing. Top individual plates with green onions and crush peanuts.
Share this amazing salad or devour it for yourself.