BLACK FRIDAY is now over and according to retailers and consumers, it was a great success here in Canada. Traditionally this is a shopping holiday that is massive to our friends south of the border in the United States. In the last two years, Canadians and local Edmontonians have really adopted the holiday. When I spoke to both retailers and shoppers and asked them their opinions, the response was very positive. Both parties suggested that Black Friday is awesome for both retailers and shoppers as it provides an opportunity to get a good deal prior to Christmas when they have some money to spend.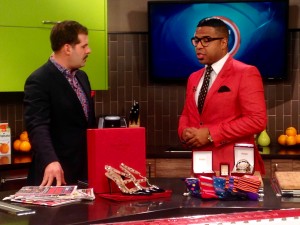 I was a guest on Breakfast Television Edmonton and asked to showcase some "BLACK FRIDAY" must haves!
I brought on Alex and Ani jewellery provided by Kings Jewellers in Southgate Centre. I also brought on a 55″ LG television that was graciously price dropped by the folks at Best Buy.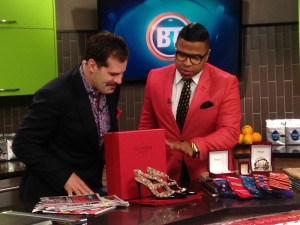 I also brought on some Valentino Shoes that Holt Renfrew here in Edmonton supplied be along with some beautiful Paul Smith mens socks. A HUGE shout out to these local companies for hooking me up!
From the marketing perspective, Black Friday has almost become this mob obsession, so much that even a group of people rented a bus and left early morning to Montana to cash in on the huge savings south of the border! Are you really getting a good deal? OR Is it just some genius marketing and tactic to create a buzz ultimately increasing sales in all categories of retail shopping? It could be a bit of both, but in my research locally here in Edmonton, I did find that there were some good deals.
Alex and Ani which is a high end costume jewellery line offered up a 15% off discount on items ONLY on Black Friday. Luxury purchases such as Valentino offered up no discounts at the retail level on their ladies shoe line. Electronic stores such as Best Buy had MASSIVE blowouts. I can honestly say that there was some amazing deals to be had! I think in years to come this shopping crazed day will gain momentum and ultimately be a huge focus come Christmas time to get those last minute deals!
What do you think of Black Friday here in Canada?