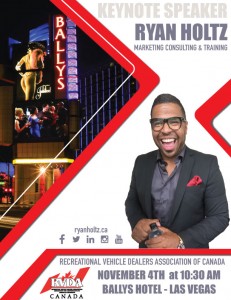 Join me November 4 at 10:30am as I will be the keynote speaker for the Recreational Vehicle Dealers Association of Canada in Vegas! I will be talking about the utilization of digital marketing and how recreational vehicle dealers can maximize the tools at their disposal to not only gain new customers, but better serve their existing customer base.
For more information or to attend, please visit here to get all the latest details! I definitely think that anyone who is in the recreation vehicle industry knows the challenges and growth that is happening when their customers are using the internet in their research regime. This presentation will be of benefit to everyone.
Have an amazing day and hope you are wearing your best socks!
Gratitude,
Call or text 780.218.5899 or @RyanHoltz1 on the Twitter and Instagram!