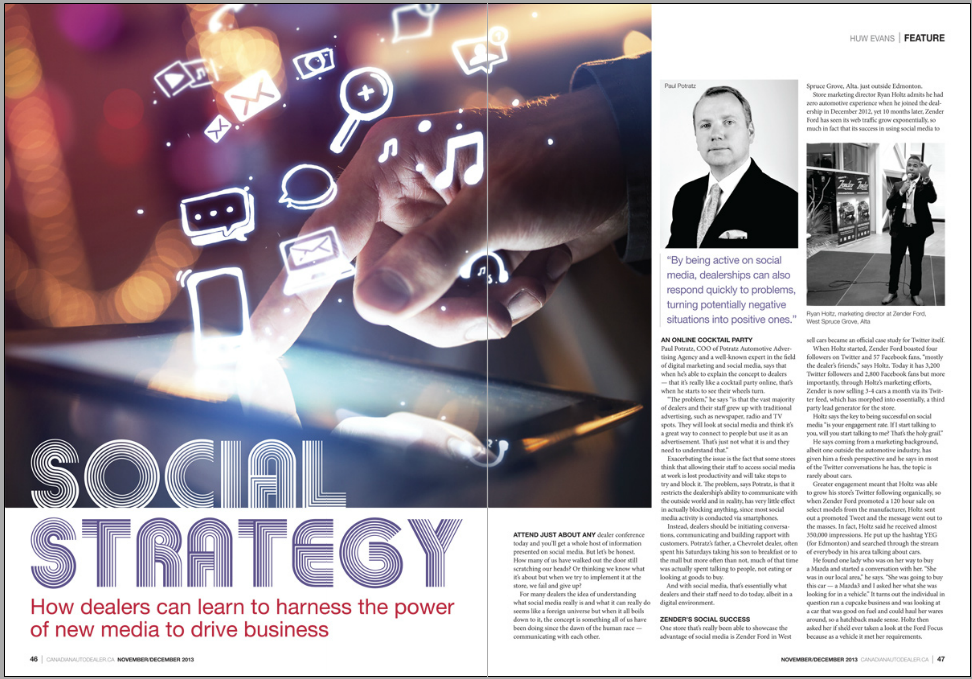 Very humbled and honored to be featured in this article. The team over at Canadian Auto Dealer magazine had reached out wanting to write a piece about social media implementation inside of the dealership. As I have said from the beginning, Social Media just by itself will not accomplish the goals you set out to conquer. A "mutual fund" type approach will allow you to diversify all of your marketing mediums in their own individual right working together for the ultimate goal: One voice, one sound ALWAYS.
Engagement and talking with people is what it is all about. I truly believe that customers are just bored and fed up with the traditional style marketing that dealerships have been doing for years and years. The way a human consumes their data has literally changed so in EVERY industry they must learn to grow and adapt. In my opinion, your customer leads the way and tells you exactly what they want, you just have to have an open mind to be able to listen to them!
I LOVE the automotive industry because it is ever changing and has so much room for growth and potential. I started in this industry just one year ago TODAY and have immensely enjoyed the journey. I have yet to even touch the surface and look forward to the challenges and growth ahead!
Hope you enjoyed the article and big shout out to the team over at The Canadian Auto Dealer Magazine. This has been a fantastic article and read.
To read the full article click here and go to Page 46