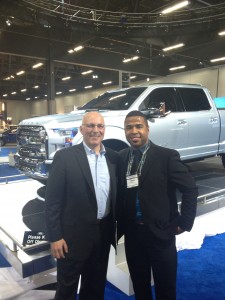 I had the pleasure of interviewing Jack Palazzolo, vice president of marketing for Ford Canada while he was here at the Edmonton motor show back in April to unveil the highly anticipated Ford Atlas.
It was a fantastic display put on by Ford as they had a simulator to really demonstrate to the consumer of how it would be like to ride in a Ford Atlas.

Please see my interview with Jack Palazzolo below:
Ryan: From a marketing perspective, why the Atlas?
Jack: We are in truck country, we brought the Atlas here in particular because of how important this market is to Canada. The Atlas represents the concept of what the F-150 will be like in future from design cues to technologies, fuel efficiency, lighter weight materials, and engine technology going into the vehicle, so it had to be.
Jack: Have you seen it yourself?
Ryan: No
Jack: When you see it, you will know why just from the bold technologies that may see there way inside of the next F-150.
Ryan: Now because it is oil country, truck country, is this the reason for it's debut in Canada at this particular auto show for the Ford Atlas?
Jack: In Alberta, Ford is the number one in all of Canada, the F-150 series has been the number one selling truck for 47 years and this has always been the epicenter of the truck market, in fact it is one of our strongest markets with 27% market share for trucks.
Ryan: Now I guess as far as marketing the Ford Atlas, because the F-150 has been bread and butter for Ford so to speak quote on quote, what is some advantages of marketing the Atlas opposed to the F-150?
Jack: We are not really marketing the Atlas, it is all apart of the process of engaging consumer reaction for design cues and technologies that we may bring to the market. If you look at the evolution of the F-150 since it's first days, the first generation, the more aerodynamics generation, the nineties to the present F-150, obviously it is still number one in the market in 2013. With auto shows, it is fun to engage consumer reaction to some of the things we may have coming.
Click to listen to the live interview.