Podcast: Play in new window | Download | Embed
Subscribe: RSS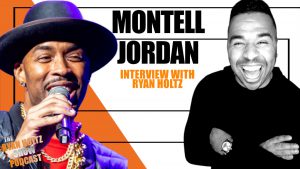 Montell Jordan (born Montell Du'Sean Barnett; December 3, 1968), is an American pastor, singer, songwriter, and record producer. Best known for his 1995 single "This Is How We Do It", Jordan was the primary male solo artist on Def Jam's Def Soul imprint until leaving the label in 2003.
Having a chance to interview and chop it up with Montell was def one of my big goals for this show, I have been listening to "this is how we do it" since the '90s. Montell is a fixture and pioneer in the music industry and a true trendsetter. Montell has created hit after hit but most importantly has been born again as a pastor. His story is one that we can all learn from and I hope you sincerely listen to this podcast a million times! We talk about everything from a counterfeit life to living your best life on purpose.
Reach out to Montell and check out his book and new record here.
Want to Donate or support the production of the Ryan Holtz Show Podcast?
Become a patron
PayPal Donation
Enjoyed this episode? Please leave a Review on iTunes here.
Want to get more exposure and put your business in front of the right audience? Inquire to see how you can advertise your company on the show here.
Watch our full video podcasts on YouTube here. Please also subscribe and click that bell to get notified!
→→→ CONNECT WITH ME ON SOCIAL MEDIA: ←←←
▶︎ INSTAGRAM | https://www.instagram.com/RyanHoltz1
▶︎ YOUTUBE | https://www.youtube.com/ryanholtz
▶︎ TWITTER | https://twitter.com/ryanholtz1
▶︎ SNAPCHAT | https://snapchat.com/add/ryanholtz1
▶︎ LINKEDIN | https://www.linkedin.com/in/rholtz
▶︎ FACEBOOK | https://www.facebook.com/RyanPHoltz/
▶︎ ITUNES | https://itunes.apple.com/ca/podcast/the-ryan-holtz-show/id1167195878?mt=2
▶︎ WEBSITE | https://ryanholtz.ca/
▶︎ SPOTIFY | https://open.spotify.com/show/2rLdYsJKw5Vb6yoMoV2jhw?si=uxDfBei9SOWbLRcTU50T0Q