Podcast: Play in new window | Download | Embed
Subscribe: RSS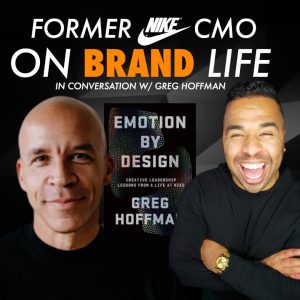 This episode is part of our #StayCurious series. BRAND Over Everything! In this week's episode, I chat with former NIKE CMO, Greg Hoffman! Greg is the author of Emotion By Design and the GENIUS behind Nike's ICONIC impact on the world. Greg has been the man behind campaigns ranging from Colin Kaepernick, Air Jordan to Nike's inception into the European soccer world! Greg walks the talk and is intentional about all aspects of his life, including EMOTION BY DESIGN!
I know you will enjoy this conversation as much as I did. Whether starting a business or running a current business, this interview will give you some golden nuggets to make your brand stand out! This conversation will also touch on the 5 pillars of depositing into your soulful currency account.
Your ears, your mind, and your heart are in for a treat! Happy listening and much love from #TeamHoltz!
If you are interested in sponsoring our show or working with myself and my team, all details can be found here.
Reach out to Greg on Insta here.
And please share with a friend!
Curiosity should always be your mandate.