Podcast: Play in new window | Download | Embed
Subscribe: RSS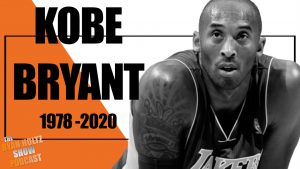 Rest In Peace Kobe aka Black Mamba, Giana and the other 7 humans that lost their life. We still cannot believe that Kobe has passed away. It is a jolting reality of how short life is and how we need to all hug our loved ones and give thanks for waking up. I was a basketball fanatic and watched Kobe over the 2 decades play.
This podcast is dedicated to you Kobe!
Rest in power and peace.
Much Love,
#TeamHoltz
Kobe's BIO From Wikipedia.
Kobe Bean Bryant (/ˈkoʊbiː/; August 23, 1978 – January 26, 2020) was an American professional basketball player. A shooting guard, Bryant played his entire 20-season career in the National Basketball Association (NBA) with the Los Angeles Lakers. He entered the NBA directly from high school and won five NBA championships. Bryant was an 18-time All-Star, 15-time member of the All-NBA Team, 12-time member of the All-Defensive Team, and the 2008 NBA Most Valuable Player (MVP). Widely regarded as one of the greatest basketball players of all time,[3][4][5][6] he led the NBA in scoring during two seasons, ranks fourth on the league's all-time regular season scoring, and ranks fourth on the all-time postseason scoring list. Bryant was the first guard in NBA history to play at least 20 seasons. According to Forbes, Bryant's net worth was estimated at $350 million in 2016.[7]
Bryant was the son of former NBA player Joe Bryant. He attended Lower Merion High School in Pennsylvania, where he was recognized as the top high-school basketball player in the country. Upon graduation, he declared for the 1996 NBA draft and was selected by the Charlotte Hornets with the 13th overall pick; the Hornets then traded him to the Lakers. As a rookie, Bryant earned himself a reputation as a high-flyer and a fan favorite by winning the 1997 Slam Dunk Contest, and he was named an All-Star by his second season. Despite a feud between the two players, Bryant and Shaquille O'Neal led the Lakers to three consecutive NBA championships from 2000 to 2002.
Enjoyed this episode? Please leave a Review on iTunes here.
Want to get more exposure and put your business in front of the right audience? Inquire to see how you can advertise your company on the show here.
Watch the full video podcast on YouTube here. Please also subscribe and click that bell to get notified!
→→→ CONNECT WITH ME ON SOCIAL MEDIA: ←←←
▶︎ INSTAGRAM | https://www.instagram.com/RyanHoltz1
▶︎ YOUTUBE | https://www.youtube.com/ryanholtz
▶︎ TWITTER | https://twitter.com/ryanholtz1
▶︎ SNAPCHAT | https://snapchat.com/add/ryanholtz1
▶︎ LINKEDIN | https://www.linkedin.com/in/rholtz
▶︎ FACEBOOK | https://www.facebook.com/RyanPHoltz/
▶︎ ITUNES | https://itunes.apple.com/ca/podcast/the-ryan-holtz-show/id1167195878?mt=2
▶︎ WEBSITE | https://ryanholtz.ca/